General Mills Announces the Second Year Goal of Its Charitable 'Join My Village' Initiative
'Join My Village,' a click-to-commit social change initiative of General Mills and international humanitarian organization CARE, is launching the second year of its online community with a new partner: American country music singer and songwriter Lee Ann Womack. Individuals will have the power to release up to $500,000 of General Mills' charitable dollars for economic and educational opportunities for women and girls in Malawi.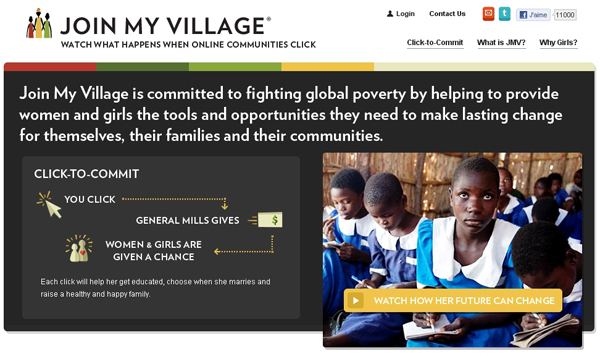 'Join My Village' puts the power of General Mills' corporate philanthropy in the hands of individuals. To unlock the dollars, users can visit www.joinmyvillage.com to learn more about girls and women in Malawi and be a part of the change in their future. Watching a video about a girl's new opportunity to attend secondary school, reading a story of a woman starting her own business, or listening to a sample of African music from a Malawi village enables users' clicks to release donations from General Mills. In addition, General Mills will match all individual donations dollar for dollar, up to the $500,000 goal. Through videos, photos and frequent blog posts from Malawi, participants can follow the real impact being made every time they take an online action to click-to-commit General Mills' dollars, or make their own personal donation.
Womack will appear in a public service campaign, various events and social media activities to raise awareness. Womack has also set a goal of rallying 100,000 of her fans to join the effort during her upcoming 18-city tour with George Strait and Reba McEntire next year.
Launched in September 2009, the Join My Village initiative combines General Mills' extensive consumer reach and cause marketing expertise with CARE's proven approaches to fighting global poverty through the empowerment of girls and women. Donations will provide secondary school scholarships to set girls on the path to a brighter future, bring female teachers to villages as much-needed role models and educational advocates for girls, and enable women to learn new business skills to contribute to their family's income.