Coca-Cola Germany launches The Spirit of Georgia
The Spirit of Georgia has been developed, produced and is, for the time being, exclusive to Germany. The name is inspired by the home of The Coca-Cola Company, where the most successful soft drink of all time was invented in 1886.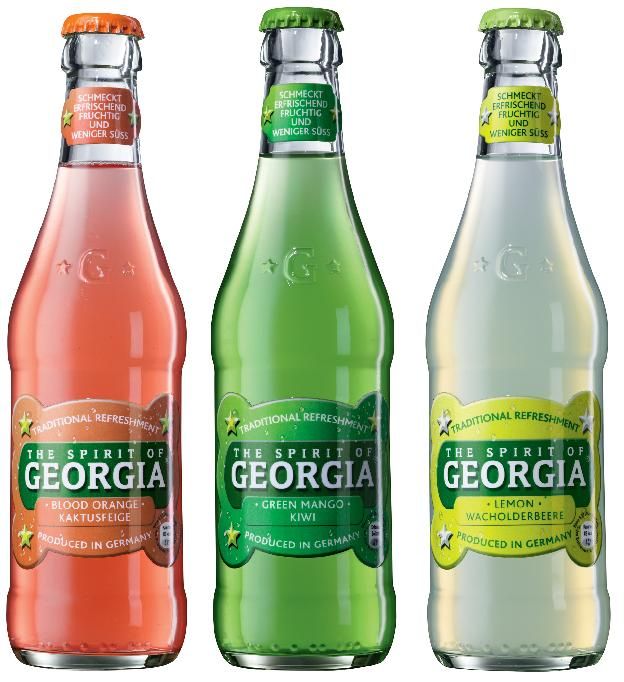 With approximately 23kcal/100ml, the The Spirit of Georgia is less sweet than conventional soft drinks, has no artificial aromas, colouring or sweeteners, and contains no preservatives. A dash of apple juice fermentate – new in the soft drink segment – gives the three flavours a particular crispness.
It's available in three flavours: Blood orange prickly pear, Lemon juniper berry, and Green mango kiwi – all packed in a new, refillable glass bottle.
The Spirit of Georgia's target audience is soft drinks consumers aged 30 and over. "Our intention was to either tailor an existing beverage from our portfolio to adults or to come up with a completely new product," said Alexandra Megid, Director My Flavor at Coca-Cola Germany and "inventor" of The Spirit of Georgia. "We decided in favour of the second alternative, because one thing is for sure: Coca-Cola has great expertise in refreshment steeped in tradition, and we're convinced that we can establish a new beverage for adults on the market."
The Spirit of Georgia is packaged in a proprietary 33cl refillable glass bottle, which is the result of a major investment in development and production and is aimed particularly at the away-from-home Horeca sector as well as at retail outlets and beverage stores.
The Spirit of Georgia is also available for coolers in the on-the-go market in a 50cl PET bottle, and on retail shelves in a 75cl non-refillable PET bottle.
"We've put together a comprehensive programme to launch The Spirit of Georgia in all sales channels," said Axel Bachmann, Marketing Director of Coca-Cola Erfrischungsgetranke AG. "Newly developed secondary placement displays are provided for retailers; these can be used in a small space and in combination if more space is available. With three different cooler types, we also make it possible to trigger additional impulse purchases. Furthermore, various sales support materials for all channels, and tasting campaigns will flank the build-up of consumer awareness and trade sales.