Giorgio Armani Donates Money for Each 'Drop for Life' as Part of UNICEF's Clean Water Tap Project
Fashion brands are not only providing the people with haute couture attires and opulent accessories—some of them are really committed to improving the world outside the fashion houses, luxury boutiques and glamorous parties. One of those social-minded brands, Giorgio Armani joined the UNICEF's clean water Tap Project, conceived in 2007 by Droga5, with its Acqua for Life initiative in 2010, and now is adding a new element to its project by launching the Drops for Life extension.

The website, created by celebrated R/GA, "The agency for the digital age," is developed in white, grey and blue tones and looks like a huge container with water, which level rises drop by drop. Every visitor to the online destination is encouraged to 'like' it on Facebook, and for every 'like' Armani is donating $1 to the project up to $250,000 (this money can buy a child 40 days of clean water, safe for health). Once a user pushes the button, another drop falls with the name of the contributor, which then dissolves, plus there is a form where the user can write a message to be posted on his or her wall on Facebook. So far, there are over 250 likes.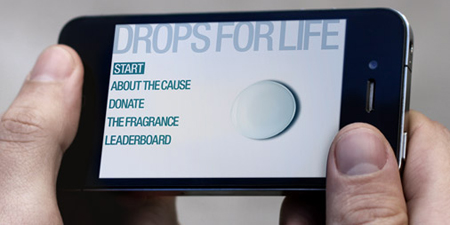 They have also created an application (available to download soon), which puts a user in the shoes of kids and women who have to walk many miles from their home to taps, wells, rivers or lakes and back carrying heavy containers with water. The app called 'Carry a Drop' challenges users to take as many steps as possible, trying not to lose a drop of water on the screen of their mobile device. Each time the game is played or the application 'liked,' Acqua for Life contributes another dollar to the project. Giorgio Armani is also donating $1 for every bottle of Acqua Di Gio for men or Acqua Di Gio for women purchased between March 1-31.
Today, nearly 900 million people worldwide suffer from the lack of clean drinkable water, and this year, according to the information on the TAP Project website, UNICEF "will specifically target Togo, the Central African Republic and Vietnam." The initiative takes place annually starting 2007, from March 20 through March 26, and this week includes the United Nations' World Water Day, which is celebrated on March 22.