New Global Ad from Coca-Cola Unites Teens through Music
Coca-Cola is set to rock teens' worlds in 2011 with 'Coca-Cola Music,' an innovative new music program that will give teen fans the inside track on the creation of music and the opportunity to view the industry's leading artists at work.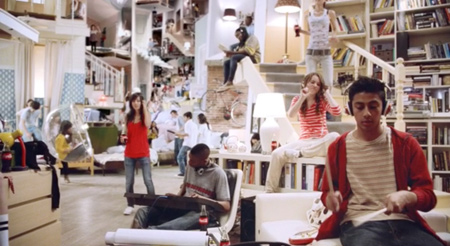 Emerging talent One Night Only has written and recorded a brand new track called 'Can You Feel It' for the program. The track is making its debut as the soundtrack to the new global Coca-Cola TVC called 'Walls.' Produced by Wieden+Kennedy Amsterdam, the commercial brings to life the sacred teenage ritual of grabbing a Coke, cranking up the stereo and enjoying a moment of release through music at the end of their day.
An interactive music video for 'Can you Feel It' was also shot on the same set. Accessible online on Coca-Cola music sites around the world, teens will be able to see themselves in the video with the band by filming and uploading their own footage, which can then be shared with friends through their social networks.
'Walls' is the latest work created for the Coca-Cola Open Happiness campaign which has now launched in over 200 markets. 'Coca-Cola Music' broke first in Germany in January with the launch of the TVC. The program will have launched in over 100 markets by the end of 2011.
"The work created for 'Coca-Cola Music' is perhaps one of the broadest spreads of content that the Company has ever produced that hasn't been associated with a global event like the Olympics or the World Cup," said Jonathan Mildenhall, VP, Global Advertising Strategy and Content Excellence, The Coca-Cola Company, "Teens are the most demanding target audience as far as creativity is concerned and in the way they engage with a brand or campaign. They demand to interact and participate with brands and be a part of the conversation. This program has been designed with that understanding and to enable teens to view, participate and share the content and experiences."