Wrangler Is Calling Public to Design the 'Next Blue' Line
Wrangler is crowdsourcing ideas—the well-known denim brand is inviting its fans to 'shape the future' of the iconic American jeans by presenting their own vision on the new design of the first style in Wrangler's new line called Next Blue. This is a call for all Americans aged 18+, even for those who are not experienced in design, since the brand wants its fans to present their ideas in video submissions. Those, who want to make their contribution to the world of fashion through Wrangler have to convince the brand that their 'denim' ideas are really worth realization and definitely can benefit the brand's portfolio of Western style jeans.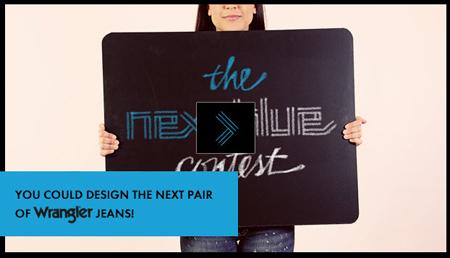 The clips up to 3 minutes long are accepted starting March 15 through March 29, and then five finalists will be selected by Wrangler executives based on a number of votes their submissions have generated (people can vode for videos right after they appear on the website) plus the creativity of the entry. The finalists will be flown to the Wrangler headquarters in Greensboro, NC to work shoulder to shoulder with the brand's designer and marketing teams to explain their ideas in detail and develop the designs, which will be then unveiled on the project's website for 1-week voting, with the winner to be announced on April 26.

The public's favourite will become the winner of the creative contest, receive $5,000 and have his or her design produced and sold by Wrangler—so, in addition to the money, they will also win international fame and have fashion design experience.  The new line will be available on Wrangler.com beginning September 2011 as Examiner.com reports, and most likely will also arrive at stores in fall.
This is probably the most decent and quiet Wrangler's project in the past months. The brand made it wild with mind-blowing 'We Are Animals' ads (the Stunt print series is the latest installment of the campaign) and projects (last year, the brand invited its British fans to 'stop thinking' and join extreme activities).