adidas Megalizer: Start Dancing and Create Your Music
adidas has launched a promotion on their sneaker collection MEGA. In order to make promo-campaign entertaining, they invited Didier Brun to create a device named Megalizer, dead combination of sneakers and digital technologies, which elicits sounds from the sneakers, letting dancers create their own music with their moves.


Image: www.lestwinsonline.com
The concept of brand identity and this particular campaign belongs to SID LEE and it's Paris atelier. Clip was filmed in Paris, featuring french hip-hop and break dancers Les Twins partnered with YAKFilms, Bboy Lamine and Bboy Mounir.
Didien Brun, famous for his coding work on world-wide innovative projects, says: "I did face loads of technical and hardware problems during the production and tests. Generating live music requires very low latency, and creating a shoe-wearable wireless system was a real challenge. The dancers that operated on the video clip did train a lot to succeed in synchronizing to play the actual song. Aside from the technical standpoint, it has been for me a great and fulfilling experience to discover the dance environment".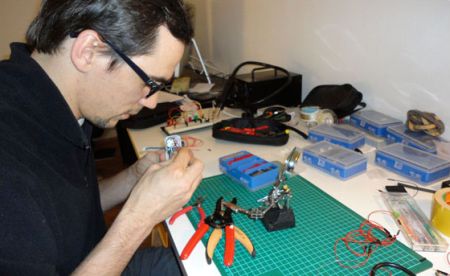 Image: www.bytearray.org
However, adidas is not a pioneer in combining digital techs and shoes. Last year Nike launched hype promotion on Nike Free Run, taglined with "Get better, faster. Get free", developed by the Wieden + Kennedy Tokyo agency.
Megalizer sneakers are not for sale.