Trend: Turn-Back to Tune-In

You are welcome to share your thoughts on this article written by Cheryl Swanson, Founding principal at Toniq llc, NYC
There is an ever-growing trend towards "nostalgia", hence the throwback packages from Pepsi, Mountain Dew, Doritos, Nike, the multitude of retro candy companies, and even in sports like the NFL with "throwback" uniforms.
As technology is moving us forward at warp-speed, the economy is in disarray, and the world seems to be filled with disaster; consumers want to feel safe and familiar again. It's time to turn-back to tune-in.
People are looking for more ways to enjoy life again, simply. Families are finding the importance of sitting down to dinner (this time without cell-phones and remote controls), people are searching for vacation getaways where there is limited phone reception and internet, people have a renewed interest in knowing the past—hence sites like ancestry.com and the show 'Who Do You Think You Are' (in its second season).  There is a yearning for all things yesteryear.
Brands are taking note and tapping into this emotional desire to reconnect. Of course this only works with brands that 'we' grew up with. With the use of throwback packaging, these brands are triggering consumers to think about the past and reminisce about the "good 'ol days", even if it was just 10, 15 or 20 years ago. The boomers (those born between 1946-1964) are excited to see products and packages from their childhood. It reminds them of a better time, when everything seemed less complicated. To the new generation of consumers, there is a cool factor in discovering what is old as new again. The children of the boomers, the echo boomers (those born between 1982-1995—and the largest generation since the 60's, nearly 80 million) are coming of age and have become a consumer super-group that cannot be ignored. They respect and find "their parent's" brands to be cool—not staid and boring. There is something to be said about growing up in the age of hippies, discos, sex, drugs and Woodstock that even "the kids" find it cool. These "turn-back" packages are "tuning-in" to both generations of consumers.
From a brand perspective, "retro" or "throwback" packaging can prove heritage and longevity.  This communicates a strong brand image that reinforces the brand as the product that has been there with you through the good times and bad and will continue to be there for you.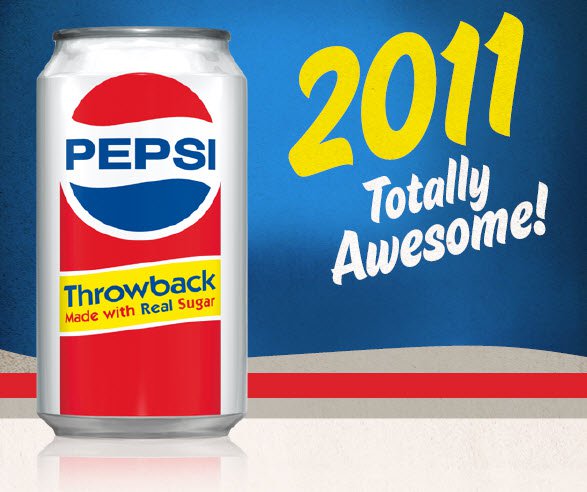 Pepsi Throwback Iconic Packaging
Here at Toniq, we recognize that this is not something that has happened overnight, but we know many brands are and will embrace this opportunity to re-connect with the consumer. We believe this trend will continue and be applied across more consumer segments like fashion, food and beverage, entertainment and architecture. Keep an eye on companies like Restoration Hardware (where they recently have had a comeback), Chevy (yes, that's how Chevrolet wants you to refer to the iconic brand), LL Bean, Converse and Keds (collaborating with hip new brands to bring the classic footwear to a new and younger audience), and lookout for more shows like Mad Men and Boardwalk Empire. In architecture, there is freshness to using iron and old metals that show signs of wear and tear. Even in technology, there is a surge in products that emulate 8-bit technology or iPhone apps that allow you to shoot digitally yet produce images that mimic classic film photography. There is comfort in surrounding yourself with familiar products, brands and environments.
Brands are, turning-back and tuning-in with consumers.
And consumers too are, turning-back and tuning-in with these brands.
Here is a list of some recent examples of brands that have "turned-back to tune-in":
Food and Beverage
Doritos — Taco Flavor, return of the retro flavor
Pepsi — throwback can and with real sugar
Mountain Dew — throwback can and with real sugar
Coca- Cola — retro glass bottles, big during the holiday season
Heritage Dr.Pepper — retro package and made with real sugar
Hershey's Cocoa — retro packaging
Hershey's Chocolate Bar — retro package
Whoppers (Hershey) – retro carton
Mr.Goodbar – retro packaging
Oreo – new design to resemble retro look
Ritz — new design to resemble retro look
Cocoa Puffs (General Mills) — retro package
Wheaties(General Mills) — retro package
Golden Grahams (General Mills) — retro package
Lucky Charms (General Mills) — retro package
Trix (General Mills) — retro package
Kix  (General Mills) — retro package
Cheerios (General Mills) — retro package
Honey Nut Cheerios (General Mills) — retro package
Cinnamon Toast Crunch (General Mills) — retro package
Captain Crunch (Quaker) — retro package
Peanut Butter Crunch (Quaker) — retro package
Crunch Berry (Quaker) — retro package
Quaker Oatmeal (large rolled oats) — retro package
Reese's Peanut Butter Cups — retro package
Fashion
Ray Ban — rebound of the Aviators
Jantzen (swimwear) — retro brand, retro ad
Nike — Air Max, Jordan, All Court, Sweet Classic, Air Trainer, etc
Adidas — classic shell toes will never go out of style
Keds — the original canvas sneaker is back
Converse — classic Chuck Taylor and Jack Purcells are cool for any generation
Woolrich — classic wool, especially in plaid are cool again
Sperry Top Sider — regaining popularity especially amongst the preppy
LL Bean — classics redefined, monogram totes are everywhere
Beauty/Personal Care
Benefit — since the 70's the company has stayed true to the retro look
Mac — Barbie collection is very retro
Stila —  Barbie collection is very retro
Moxie — premium feminine hygiene brand in retro looking box
Revlon — retro advertising
Lancome French Touch Absolu — retro design and package
Technology
Hipstamatic (iphone app)
Shake-it (Polaroid iphone app)
Classic Games — Pac Man, Tetris, Mario Bros, Galaga, Centipede are all the rage again
Retro Phone Handset for your cell
Retro handset phone base for iphone recharging
Vintage arcade hardware emulators (reproductions of classic game hardware)
NES controller (reproductions of classic game hardware)
Auto
Mini-Cooper
Volkswagen Beetle
Fiat
Chrysler PT Cruiser
Chevy
Airlines
JAL — back to the old logo
Music – regrouped and on tour 2011 and/or new album
Duran Duran
Take That
Big Audio Dynamite
Tears for Fears
Elvis Costello
B-52
Whitesnake
Journey
NKOTB
Air Supply
Public Image Ltd.
And much, much, more!!!
Recreation – things that are cool again
NFL — throwback uniforms
Ping Pong —  SPiN New York (NY based)
Bowling — Bowlmor, Brooklyn Bowl, Lucky Strike (NY based)
Foosball — Fat Cats, Parkside, The Blue Donkey' (NY based)
About the Author

Ms. Swanson founded Toniq in 1999 after leading several design firms to world-class status with her emotions-based, visual approach to brand strategy development. At Toniq, she continues to evolve her strategic expertise by seeking new ways to connect with consumers.
Swanson's years of trend tracking, design management and research have coalesced in a theory of "Brand Effervescence ™" an innovative approach to brand building. This image-based approach is a synthesis of cultural anthropology, consumer trends research, marketing and design, and a study of the psychology of symbolism and color.