P&G Future Friendly Announces the Winner of the Find Your Footprint Contest
P&G Future Friendly, the National Geographic Society, and Promethean announced Walker Elementary School of Springdale, Arkansas, as the winner of the Find Your Footprint national conservation education contest. As one of six finalists, Walker Elementary received the highest number of public votes for their video entry, 'Helping the World and Saving Our Future,' and will be presented with the grand prize valued at $36,000. More than 34,000 votes were cast during the four-week public voting period to choose the winner.
The Find Your Footprint program generated inspiring submissions from elementary classrooms around the country on how students would conserve natural resources. In some school districts, local officials were engaged and permanent changes made as a result of the contest. The grand-prize package to be presented to Walker Elementary includes: five Promethean interactive whiteboards (ActivBoards), five sets of Promethean Learner Response Systems (ActivExpressions), 30 subscriptions to National Geographic Kids magazine and up to $1,000 in National Geographic educational materials.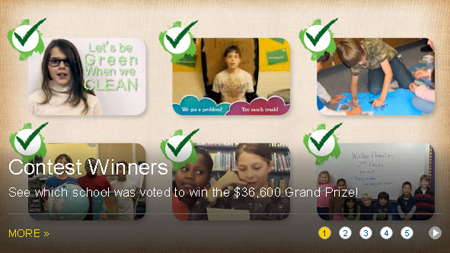 Walker Elementary's winning entry, as well as other Find Your Footprint finalist ideas, that can be applied to the home, office or school are now featured on Future Friendly's Facebook page and in the April P&G brandSAVER booklet found in daily newspapers nationwide. Student-inspired tips include:
—Canceling unwanted mail catalogs to save trees, water and energy;
—Using reusable bags, lunch containers and utensils to reduce waste every day;
—Turning off a running water fountain to save up to six cups of water per hour; and
—Placing recycling bins in high traffic areas, such as: the copy room, classroom and school cafeteria.
As part of the Find Your Footprint program, an estimated 475,000 classrooms nationwide were introduced to custom National Geographic conservation education curriculum—including a Teacher's Guide and a student-focused Waste Detectives activity designed to help students reduce waste. These complimentary resources can still be accessed here.