Dr Pepper Snapple Group Launches Let's Play Grants
Dr Pepper Snapple Group and national nonprofit KaBOOM! announced the availability of nearly 2,000 grants to communities across the U.S. through Let's Play, a community partnership led by DPS to help get kids and families active nationwide. Starting yesterday, April 21, communities can apply online for various levels of financial support at www.LetsPlay.com.
The grants are part of the first Let's Play initiative introduced in November of last year—a $15 million, three-year commitment to KaBOOM!, the national nonprofit that's saving play by ensuring there is a great place to play within walking distance of every child. Together through Let's Play they will build or fix up 2,000 playgrounds by the end of 2013, benefiting an estimated five million children across North America.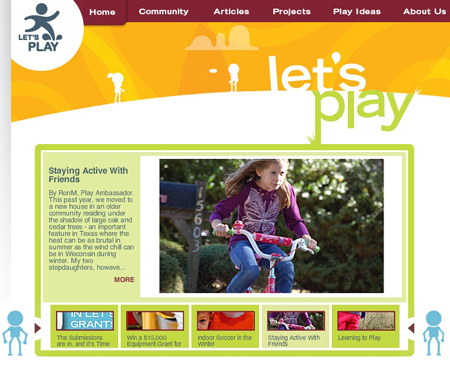 Each grant satisfies a different community need—whether it's helping to create a brand-new playground, update or restore an older playground, or extend the life of an existing play space. Some of the available grants include:
—Let's Play Playground Construction Grants: To help cities and community organizations plan and build new playgrounds;
—Let's Play Playground Improvement Grants: To help community organizations improve existing playgrounds by adding shade structures or other play equipment;
—Let's Play Playground Maintenance Grants: To encourage community involvement in playground improvement projects that make local playgrounds cleaner, safer and more inviting to kids and families;
—Let's Play Joint Use Grants: To provide funding for school districts and municipalities to explore and implement joint-use agreements to help keep local playgrounds open longer.
The first five Let's Play grants to be awarded will go to the winners of the KaBOOM! 'Promote Your Playground' video contest, an interactive competition that invites consumers to upload a short video showing why their community needs a playground. The top-10 video entries competing for five $15,000 Let's Play grants are now available online at LetsPlay.com. Five of the finalists will be selected by a public vote to win a grant to be used for new playground equipment. The voting period opened online yeasterday and runs through Sunday, May 15.