Audi Urban Future to Present Vision of Manhattan-2030
What will mobility of the future look like? How will urban space of the future affect transportation? Though these questions have already been raised by BMW in its 'Activate the Future' video series, Audi is about to have its say on the subject. The brand is bringing its Audi Urban Future Initiative to New York where it will be on display at Openhouse Gallery, May 7 through 9 and let the emerging architects speak on Audi's behalf.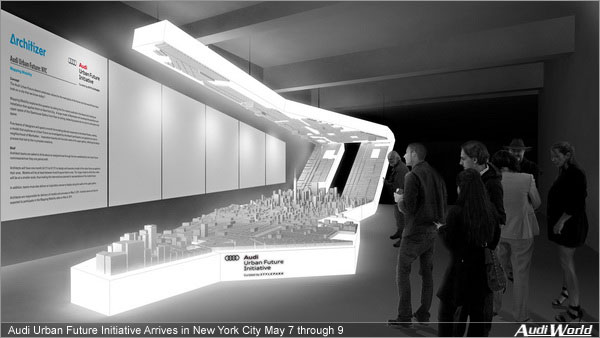 Johan de Nysschen, President, Audi of America, comments on an upcoming exhibition, "The years ahead may well define new understandings about the future of urban living and mobility. So it is a privilege for Audi to kick off a discussion on diverse visions of this future here in New York through the work of the Audi Urban Future Initiative."
During the event the brand will unveil a 50-foot interactive exhibit dubbed 'Project New York' created by five up-and-coming NYC-based architects who tried to present their vision of  Manhattan in the year of 2030 as part of the New Museum's first-ever 'Festival of Ideas for the New City'. Back in 2010, these concepts received Audi Urban Future Award hosted in Venice, Italy. The exhibit is designed not only to reveal the vision of the future, but also to spark public discussion on what transportation and communication will look like in the future.
To make this event happen, Audi has partnered with the biggest online community of architects dubbed Architizer. That's why it has commissioned the most innovative 5 firms LEONG LEONG, MATTER PRACTICE, ABRUZZO BODZIAK ARCHITECTS, labDORA and THEVERYMANY, LLC. to put the concepts of Audi Urban Future Award 2010 winners into reality, which resulted in creation of a 50-foot interactive model of Manhattan.
On May 7 and 8, Audi will join several events of 'Festival of Ideas for the New City'. One of them is  'Audi Urban Future: Project New York Talks', which represents a disussion forum dedicated to the concept on display.
To learn more about the initiative, please visit the website of Audi Urban Future initiative at www.audi-urban-future-initiative.com.