Do Limited Editions Offer Limited Results?

You are welcome to share your thoughts on this article written by Dave Timothy, Senior Account Director at strategic packaging and design consultancy Anthem Worldwide
With Royal Wedding mania in full swing last month, we saw the bandwagon well and truly jumped upon, with limited editions launched by many brands, some more surprising than others.  Schweppes and Twinings with their Royal Warrant were bound to launch their Royal Wedding bottle and Commemorative blend respectively.  More surprising were the Royal Wedding Oyster Card, LG's Royal Wedding mobile handset and Nails Inc's William and Kate nail polishes!
What these demonstrate very well, though, are the hugely tactical nature of limited editions.  They make it possible to tap into a specific event or zeitgeist and offer brands an opportunity to shout about their products.  But now the wedding is over, they suddenly feel very outdated.  Plus, what do they tell us about the brand itself?  There may well have been short term gains, but don't limited editions also have the potential to create confusion about what a brand stands for?  Which makes me wonder what happens to consumer purchasing once stocks run out?  So should we really be doing them or thinking more about the long term health of our brands?
Take the health and beauty market.  Not long ago this sector showed great differentiation with fewer, stronger brands and clear brand colours along with ownable structures, formulations and efficacy.  This made the fixture easy to shop and consumers were also clear about what each brand was delivering for them. However, a look down this aisle in your supermarket today reveals an increasingly homogenous category (see below) with limited differentiation.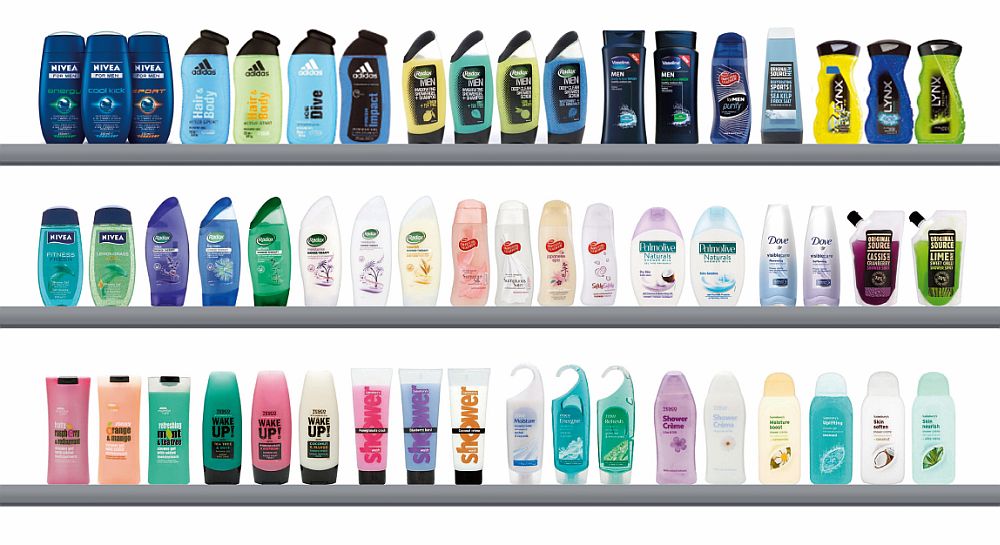 This weakness in brand identity at point of purchase has been driven in part by product diversification, leading to ever increasing challenges for brand segmentation. We now have everyday brands such as Nivea straddling numerous consumer camps like family, female, 'tweens', men, 'natural' buyers and the environmentally conscious—making it difficult to understand what they actually stand for.
In addition, for a category that depends on constant innovation to stay ahead and get noticed there have been surprisingly few memorable leaps forward in recent years when it comes to product formulation, application or structural and graphic design.
It's true we see lots of noise in the category with constant tweaks as all the major brands introduce limited editions, gift ranges, extra value packs and travel sizes etc.  However, these short term fixes merely paint over some of the cracks and further cloud brand distinctiveness.
So why has this happened?  With a difficult economy, a buoyant private retail brand sector and price sensitivity all being part of current market conditions, manufacturers have found it easier (and less risky) to launch limited editions or tactical brand extensions than to invest in long term projects.
This is, though, a short sighted approach.  Without investing in brand differentiation and values, health and beauty brands stand to lose both shelf impact and also customer loyalty as consumers forget why they choose one brand over another—buying on price instead.  Agencies that can provide insight into future trends and link to consumer insights will be ideally placed to support their clients' innovation and research pipelines.
Coke and Heinz have teamed up to demonstrate this approach with their 'Plant bottle'. The new Heinz bottles, derived partially from plants, proudly sport new labels that ask 'Guess what my bottle is made of?'. They have understood what consumers are looking for and delivered a total consumer experience.  It's not just a nice design or a nice bottle, but a great new formula, with a new delivery method, in a great bottle, with a great design.
Interestingly, Pantene have just announced that they're also producing their first plant-based shampoo and conditioner bottles, so maybe we are going to start seeing a bit more excitement and innovation in the marketplace.  Certainly, those willing to take the risk, separate from the flock and deliver products with distinct brand positionings will reap the rewards.  After all, isn't this a sector that's all about looking good and standing out?
About the Author

Dave Timothy is Senior Account Director at Anthem Worldwide, UK. He heads up the Nestle account team at Anthem. This covers a full range of design services across their Confectionery, Professional and Food & Beverage teams, working with brands like KitKat, Smarties, Aero and Nescafe on a regular basis.