Starbucks Partners with AFDC to Launch AFDC-Starbucks Green Leadership Academy in Lebanon
Starbucks has partnered with the Association for Forests Development and Conservation (AFDC) in Lebanon to launch the AFDC-Starbucks Green Leadership Academy, a 3-year project, which aims at empowering tomorrow's young leaders through environmental awareness training programs on sustainable green environment.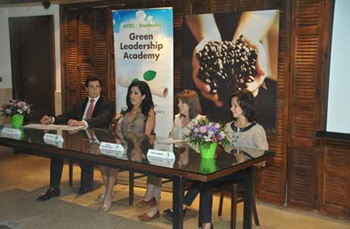 The Green Leadership Academy is in line with Starbucks' Shared Planet program and the company's global commitment to support the environment and empower youth to help them become leaders of a greener future. Twenty five students and young professionals from Lebanon between the ages of 20 and 30 will participate in the Green Leadership Academy project, announced on May 26. This group of tomorrow's leaders will represent all regions and backgrounds in Lebanon, as well as universities, technical schools, and companies. Participants will have to commit to a period of 6 months during which they will attend weekly environmental lectures, followed by a 2-day intensive workshop, and engage in 'a give back to the community' project before submitting their concepts.
The Academy offers a unique opportunity for participants to broaden their knowledge and perspectives on environmental and natural resources, policies, management, and leadership skills.
Rana Shaheen, Regional Communications & CSR Manager, for Starbucks MENA said, "The AFDC-Starbucks Green Leadership Academy will provide the skills to inspire environmental change, by training dedicated green enthusiasts to become leaders in the green development of Lebanon. Starbucks commitment to inspire change and AFDC's dedication to a greener environment creates a unique opportunity for Lebanese youth. We are committed to contributing to every community we are present in, particularly when it comes to supporting the environment and youth initiatives."