Coca-Cola: Search for Talents to Carry Olympic Flame
Coca-Cola, the UK's number one selling soft drink and one of the most innovative brands in the world, has launched its nationwide search for talented young people to carry the Olympic Flame, one of the symbols of the Olympic Games, representing peace, unity and friendship, during the London 2012 Olympic Torch Relay.
The Coca-Cola Company has been continuously associated with the Olympic Games since 1928—much longer than any other corporate sponsor of the Olympic Movement.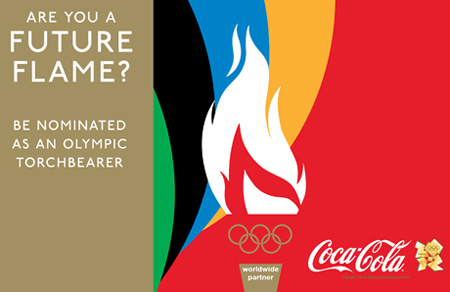 In order to reward the positive contributions made by young people in the UK, Coca-Cola is calling on everyone across the country to nominate the Future Flames: young people who use their passion in areas like sport and physical activity, music and dance, community and the environment. Actually, the company is looking for nominees who can show how they try to bring happiness to others and what their future ambitions, aspirations or goals are.
Besides, the search to find the UK's Future Flames comes as a survey by Populus reveals that while 89% of 16-24 year olds undertake activities that contribute to their local community, such as volunteering and fundraising, less than half (47%) of older people recognize this contribution to society.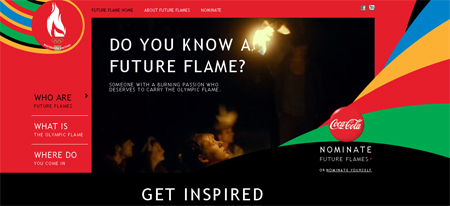 The launch event hosted yesterday, June 2, included performances by music artists, athletes and young people—Flames Ambassadors. It also will be followed by a national 'Torch Tour' around the UK to encourage everyone to nominate the Future Flames from their areas. On a 70-day journey across the UK, the Flame will be carried by 8,000 Torchbearers.
Simon Baldry, Managing Director at Coca-Cola Enterprises Ltd, comments, "Coca-Cola's London 2012 Olympic Torch Relay Future Flames nomination campaign will bring the excitement of the Olympic Games right into the heart of those very communities and CCE is working closely with our customers across GB to ensure that this once in a lifetime opportunity will be fully activated in-store."