Sustainable Brands 2011: Summary of the Event

For the fifth consecutive year Sustainable Life Media, the leading international producer of sustainable business conferences, gathered together leading professionals in the area of sustainability at Sustainable Brands '11 Conference (SB'11) in Monterey, CA, to discover and share the latest trends, campaigns and ideas driving corporate change. More than 700 representatives and visionaries of sustainable business were engaged in a dynamic conversation about the shifting landscape of corporate responsibility during a  4-day event.
Here at Popsop.com we are proud to be a media sponsor and supporter of the event for the first time and spead the word about sustainable initiatives and businesses worldwide for the good purpose.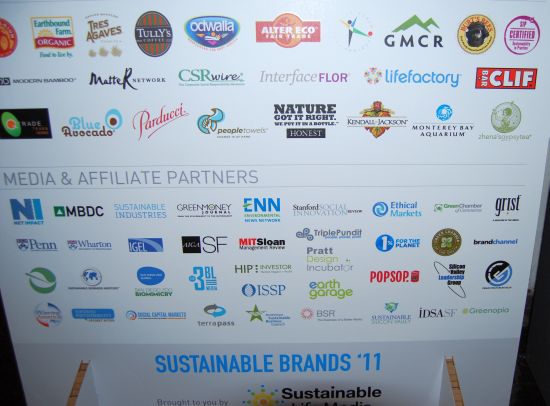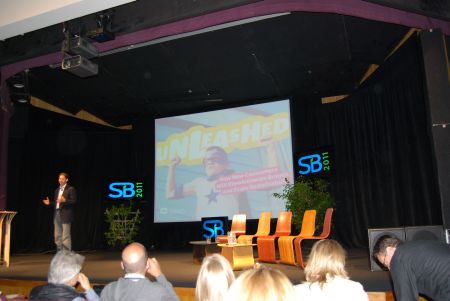 As to speak about the results, there were some new researches, approaches and service platforms from a number of companies, speaking at the conference,  unveiled exclusively at SB'11.
New findings were represented by:
- Brand Logic, a leading full-service brand consultancy, in partnership with CRD Analytics, who shared the results of the "Sustainability Leadership Report: Measuring Perception vs. Reality." The report is a quantitative analysis of actual vs. perceived performance around environmental, social and governance (ESG) factors for 100 global corporations including Apple, Goldman Sachs, Walmart, IBM and other global leaders. Tuesday, June 7. Business Research Roundtable, Colton Room, 1-4 pm.
- WPP agencies Landor Associates, Cohn & Wolfe, and Penn, Schoen & Berland (PSB), in partnership with Esty Environmental Partners, an independent consulting firm. They unveiled the latest findings regarding the sustainability perceptions, purchasing habits and brand expectations of consumers worldwide in a survey called ImagePower ® Global Green Brands 2011, one of the largest global consumer surveys of green brands and corporate environmental responsibility.
- RecycleMatch launched its enterprise SaaS platform, which helped companies maximize the value of their excess materials and source new solutions for waste currently headed to landfills. This is the first enterprise platform that enables corporate customers to manage and track all byproduct materials across the enterprise, sell materials via a private marketplace, and leverage a large buyer network for identifying new solutions for waste diversion.
- Saatchi & Saatchi S released the results of a data-rich study on gamification. The Saatchi S study, conducted by Ipsos, is among the first of its kind to examine the intersection of brands, social games, challenges and deals to see where real opportunities might exist around usage of games in the workplace; impact on recruiting; responsiveness to cause-oriented platforms and social good efforts, and more.
- Tripos Software Inc and Natural Logic Inc represented the Sustainability in Practice™, an on-demand eLearning library. Based on the acclaimed book The Truth About Green Business by Natural Logic CEO Gil Friend, Sustainability in Practice provides role-based, on-demand, at-your-fingertips sustainability training for employees at all levels—management, operations, products & services, marketing and more.
Besides, some new insights and case studies were presented at SB'11 from GE, adidas, Unilever, Nestle Purina, Ford, Best Buy, Disney, Dell, Daimler, and dozens other global brands. The opportunity to sponsor the event was proudly taken by SAP, Hewlett Packard, BBMG, Citizen Group, Cohn & Wolfe, CSRwire, Domtar, EcoBonus, PR Newswire, Saatchi & Saatchi S., Shelton Group and others.
The founder and CEO of Sustainable Life Media and SB'11, KoAnn Vikoren Skrzyniarz, commented on the event and its purpose: "As the definition and implications of corporate sustainability have changed dramatically since our first Sustainable Brands conference five years ago, we feel it is important to focus on the unprecedented innovation that has grown out of positive and inspiring modes of thinking. Collaboration, smart strategy, creativity and a sense of play are the key characteristics embodied by the motivating speakers, thought leaders and companies presenting and announcing at the conference. As we'll see, leaders in the sustainability space turn strategy into a team-building endeavor that fosters swift, profitable and sustainable results."
Next year Sustainable Brands Congerence is set to be held on June 4-7, 2012. Save the date in your calendar now!