Dell's Ambition: We're Not Just a Computer Seller
Dell starts an ambitious new branding campaign that costs $80 million and is aimed to change its image from just a computers-seller to a business-solutions provider."One of the big priorities I had when I moved into the job is how do we fundamentally change the perceptions that customers have about Dell," said Karen Quintos, senior VP-chief marketing officer since September. "We just fundamentally feel this is a great time to be telling the story around Dell and launch the first-ever corporate brand campaign of this scale in the U.S," according to AdAge.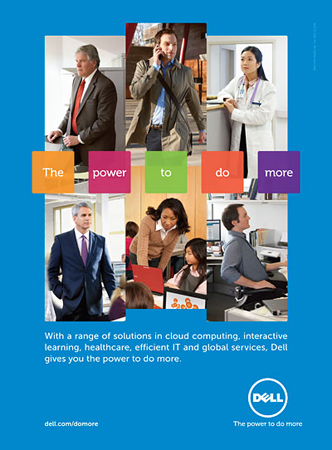 The campaign is created by Dell's agency WPP's Y&R and will be on air in late June, with the theme 'The Power to Do More.' The first TV spot features doctors, business people and teachers who all want to 'do more' for their respective customers, but while some of the ads depict business-to-business solutions, the corporate campaign is aimed at consumers as well.
By now, Dell was mostly known for its consumer tech devices such as PCs, servers and tablets. The company has lost its number one position in the computer market to Hewlett-Packard, while Apple has revived its image on the back of a series of stylish products such as the iPod and iBook, etc. But over the past several years Dell has added services and solutions such as IT management, consulting, storage and cloud-computing capabilities.
One can assume that Dell's evolution to another positioning on the market will put the company in tough competition with companies like Hewlett-Packard, IBM and Cisco Systems. Let's see if 'The Power to Do More' is just another catchy phrase or a real tool to get new perspectives.