Google Gave $1 Million to Fund Projects by the Winners of Knight News Challenge 2011
Digital media, no matter how strong and influencing it may seem today, still needs extensive support for further development to keep up with the technological progress in the digital age, sustain democracy and deliver information in the most convenient and clear way. On June 22, Knight Foundation announced winners of the Knight News Challenge, which is "an international media innovation contest funding digital news experiments that inform and engage communities." This year, they selected 16 entrants in the four categories—Mobile, Authenticity, Sustainability and Community—to receive $4.7 million in funding including $1 million contribution from Google.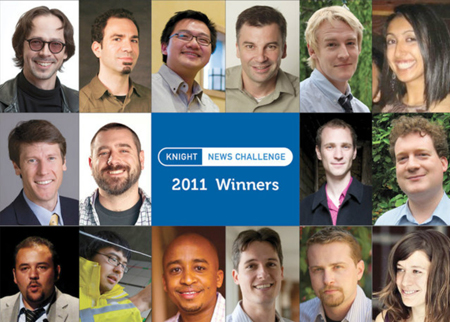 "Quality journalism remains a crucial ingredient of democracy," commented Jim Gerber, director of strategic partnerships, at Google. "As the Internet continues to extend how we communicate, gather information, and publish, innovations in news are emerging from organizations of all sizes around the world. We applaud the initiatives recognized today in the Knight News Challenge and hope they inspire even greater innovation." The challenge is arranged as part of the foundation's $100 million Media Innovation Initiative, "designed to find digital ways to effectively inform communities so they may better function in a democracy," according to the press release.
The ideas, which will receive funding this year, include (to see the rest of the winners follow this link):
—Overview by The Associated Press, New York, N.Y. ($475,000): Overview is a tool to help journalists find stories in large amounts of data by cleaning, visualizing and interactively exploring large document and data sets;
—PANDA by Chicago Tribune, Chicago, Ill. ($150,000): The PANDA Project, in partnership with Investigative Reporters & Editors (IRE), the Chicago Tribune and The Spokane Spokesman-Review, will build a set of open-source, web-based tools that make it easier for journalists to use and analyze data;
—ScraperWiki by ScraperWiki, Liverpool, England ($280,000): ScraperWiki.com provides a way to make it easier to collect information from across the web from diverse sources;
—The State Decoded by The Miller Center Foundation, Charlottesville, Va. ($165,000): The State Decoded will be a platform that displays state codes, court decisions and information from legislative tracking services to make government more understandable to the average citizen;
—DocumentCloud Reader Annotations by Investigative Reporters and Editors (IRE), Columbia, Mo. ($320,000): A 2009 Knight News Challenge winner, DocumentCloud helps journalists analyze, annotate and publish original source documents.
"Through the News Challenge, Knight Foundation fosters innovators that push the intersection of journalism and technology," commented Alberto Ibargüen, president of Knight Foundation. "From individuals to institutions, the contest has generated or helped promote a wide variety of experiments and initiatives, including popular new tools like DocumentCloud and Ushahidi. Media innovators like David Cohn of Spot.Us or 'journalist hackers' like Brian Boyer are exactly the kinds of people we expected to participate. It has also pleased us very much to welcome the up-front engagement in the contest of great news organizations like the Associated Press and Chicago Tribune."
Google constantly supports pioneers in a range of fields through a plethora of programs (Google Science Fair for younger students, Google Scholarships and Google Challenges and Competitions for students to apply their skills).
2011 Knight News Challenge Winners from Knight Foundation on Vimeo.