Red Bull Creation Gathered Creative Minds at the Competition in Brooklyn
On July 7, Red Bull started a 72-hour building competition within its project Red Bull Creation. 16 teams from across the country came together for three days of innovation with the city as their playground. Red Bull Creation brought together country's most creative minds, showcasing their ingenuity with one team came out on top.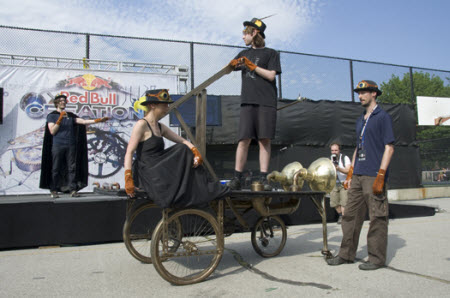 Photo: www.psfk.com
It kicked off as the official build topic was announced and 16 teams would have to claw their way across the city, searching for any materials fit to be repurposed and reinvented.
On July 10, the judge panel gathered in Brooklyn to evaluate the creations and to choose the best one. McCarren Park was transformed into an alternate universe of iPad-controlled water balloon wars, mechanical bulls made of tires, a performance by instrumental wizard, That 1 Guy, and the stage for 16 teams to show what their creations were made of. Among the innovations were such giants as a mechanical warm 'Chillerpillar'; a steampunk version of an off-road trolley car; a shopping cart that 'does its own poppa-wheelies'; an electrical hybrid tricycle with a dryer attached that doubles as a gigantic blender; and a play-powered mobile pod, complete with an electricity-generating swing set to name a few.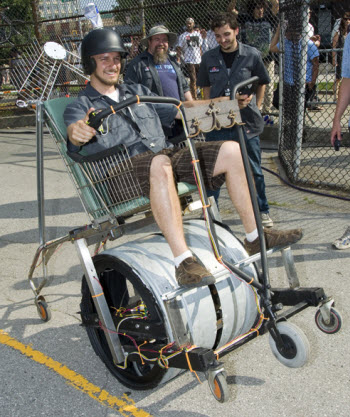 Photo: www.psfk.com
The 'Team Award' took Techshop with their Makerbot 3D Printer. The grand prize of $5,000 inherited Minneapolis' 1.21 Jigawatts, which is difficult to describe in words. It is a massive hamster wheel, wired into a mobile network, given its own phone number that could somehow receive up to 60,000 one-word text messages at a time. Once it received the text message, the hamster wheel would actually roll and perfectly print the word out along the ground.
The team received money and four 40W Hobby Laser Cutters from Full Spectrum Laser.