BrandOpus Redesigns Full Range of Badger Ales
BrandOpus continues its partnership with independent UK brewer and pub owner Hall & Woodhouse, with the redesign of the full range of Badger ales. Following on from a pitch won by BrandOpus in October 2010, and the success of Hopping Hare launched in March, the wider range of nine ales will hit the shelves in mid-August.
The brief was to encourage consumers to explore the wider Badger range rather than just repeat purchasing their regular brew. BrandOpus established a framework for the brand identity that evokes the core 'countryside ale' proposition. This has been used to bring consistency across the rest of the range, whilst distinguishing each of the beers through its own unique personality.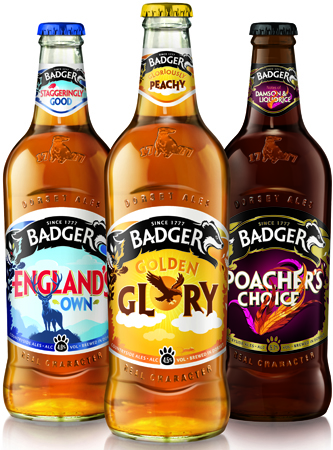 Although the beer remains the ale that Badger fans know and love, the re-design expresses the quirky traits of each of the unique personalities of the ales through a series of characters. These characters build on the countryside proposition of Badger and hark back to the Dorset home of the company. The core range is represented by a series of illustrated animals designed to reflect the characters of the ales in the range: Golden Glory by an eagle, England's Own features a stag, Golden Champion by a horse, amongst others.
Beyond the core range, the premium Badger ales are represented by countryside pursuits: Blandford Flyer featuring the fly from the end of an angler's fishing rod, and Poachers Choice represented by the feathers of the poacher's hat. The use of black and gold colours within the design distinguishes the ales as a discerning choice, perhaps for enjoyment after dinner, rather than a session ale.
Paul Taylor, creative director, BrandOpus says, "We've brought to life the proposition of countryside ales through the rural themes of each of the individual beers. The characters hark back to Badger's Dorset origins, and differentiate the brand from the competition."