Ziggurat Brands Created New Identity for the New Covent Garden Soup Brand
London-based agency Ziggurat Brands has created a refreshed identity for the UK's best-selling fresh soup brand New Covent Garden. The agency was approached with a task to develop a contemporary and appealing look of the iconic cartons to highlight the taste credentials of the soup line. The new vivid and colorful design also provides the clearest range segmentation, making it easier for consumers to differentiate the products in five segments of the brand's portfolio.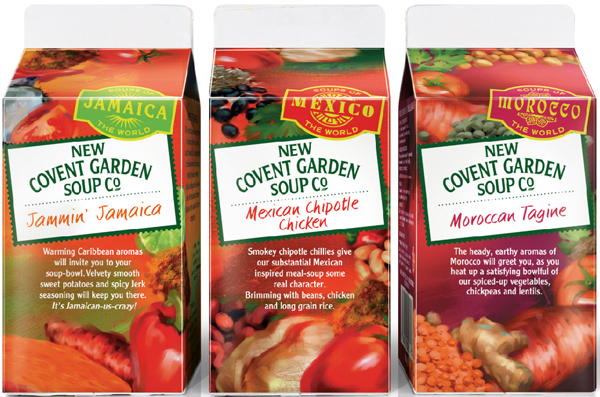 Photo: New Covent Garden Soup's new design by Ziggurat Brands
"New Covent Garden Soup dominates the UK's £160 million fresh soup market with a 39% value share, five times more than the combined share of all other branded fresh soups. Over a period of time, however, the packaging had begun to look cluttered, unfocussed and not terribly appetising. As part of the biggest initiative of its kind in NCG's 24-year history, Ziggurat have redesigned and refreshed the entire NCG range. We introduced clarity, created real standout and developed a real emphasis on flavour, quality and variety as well as repositioning their offer into 5 distinctive segments—core range classics, seasonal, soups of the world, big and bold and 99 calorie," says Adrian Collins, Managing Director at Ziggurat Brands.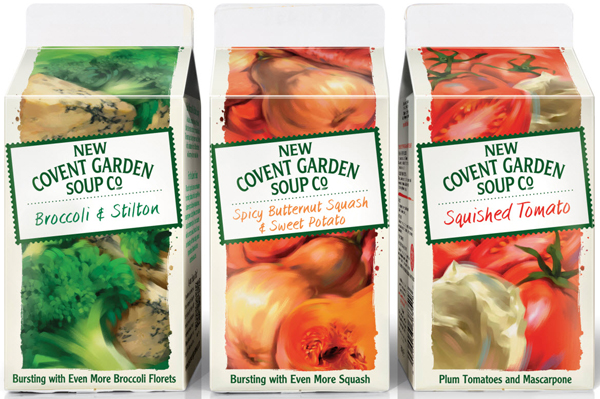 Photo: New Covent Garden Soup's new design by Ziggurat Brands
New Covent Garden has also refreshed its portfolio by adding eight new recipes and testing the previously launched 32 flavours. With two of the soups—Smoked Haddock Chowder for the RNLI, and Heart Warming Soup for the British Heart Foundation—the brand is raising money for charity. To spread the world about the overhaul, New Covent Garden has also rolled out national TV-advertising and launched the world's first soup community website.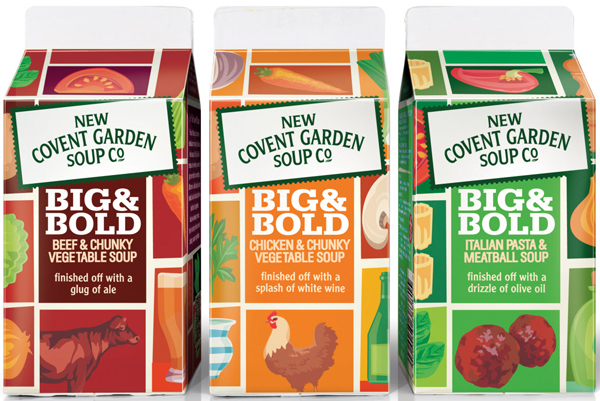 Photo: New Covent Garden Soup's new design by Ziggurat Brands
"We are revitalizing every major element of the marketing mix and the improvements we've made, particularly in relation to product quality, will enable us to position New Covent Garden soups as the best in the market," says Marketing Director, Nigel Parrott. "Currently, two thirds of the UK's 18 million soup buying households don't buy chilled. We're confident that the initiatives we're taking will attract new consumers to the category and, of course, to New Covent Garden. Segmenting the range will make it easier for consumers to shop the fixture and, enhanced by the new pack designs, will provide best ever standout for New Covent Garden on-shelf."