ABSOLUT Rolls out a Campaign to Commemorate 30 Years of Its Marketing to Gay Consumers
ABSOLUT is rolling out a campaign to celebrate 30 years of the Swedish vodka efforts to reach American L.G.B.T. community. Thus the brand emphasizes its loyal attitude to gay, lesbian, transsexual and bisexual consumers.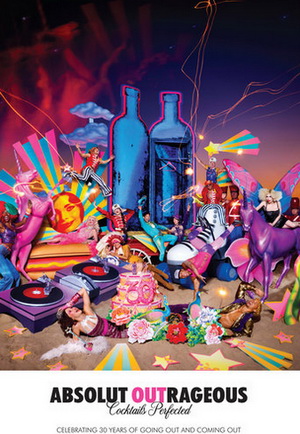 Photo: ABSOLUT Outrageous poster, from www.nytimes.com
For the first time ABSOLUT placed its adverts in 1981 in two magazines read by gay men, The Advocate and After Dark. Those first ABSOLUT ads were later followed with events in bars, donations to charities and causes, outdoor advertising and, most recently, sponsorship of a series on the Logo cable channel directed at L.G.B.T. viewers, 'RuPaul's Drag Race,' says The NY Times.
The campaign carries the theme ABSOLUT Outrageous through the whole year of celebration with a phrase: 'Celebrating 30 years of going out and coming out.' The budget is said to be more than $4 million.
The campaign will include online and outdoor ads, events and a presence in social media. A print ad created by Pernod Ricard USA in collaboration with TBWA/Chiat/Day in New York and SPI Marketing in New York, will appear in publications read by gay men and lesbians like The Advocate, Instinct and Out by as well as in two general-market magazines, Vanity Fair and Vogue.
The poster photo was created by the photographer David LaChapelle in his recognizable style. The centerpiece of the ad features closets, divas, disco turntables, rainbows, the performance artist Amanda Lepore and unicorns.
Scott Seitz, president at SPI Marketing, said that ABSOLUT has earned the loyalty of the "more mature gay and lesbian consumer," ages 40 and older, who appreciate the brand's history and its initiatives like fund-raising for AIDS charities.
Hoj Jomehri, creative director on ABSOLUT at the agency, said: "The look and the feel of the campaign is contemporary. We're approaching it as a celebration in a modern way that looks forward to more support of the community."
Examples of other gay-oriented ads include ABSOLUT Glaad, honoring the Gay and Lesbian Alliance Against Defamation; ABSOLUT Out, billboards with three-dimensional closets, the doors open; and ABSOLUT Commitment, a wedding cake topped by a pair of bottles. The company also sponsored the ABSOLUT Gay Theatre Dublin and Gay Games VIII Cologne in 2010.
Other prestigious brands seeking L.G.B.T. consumers include American Airlines, Campbell Soup, General Motors, Macy's, Orbitz, PepsiCo, Procter & Gamble, Unilever and Wells Fargo.