UK's Top Family Brands 2011: Retailers Take the Lead
Most brands are traditionally divided into groups related to a consumer's profession, personal interests, age, sex or nationality, and this influences the choice of marketing approaches, package design or services for boosting sales or integration. But still there are some brands which manage to target probably the most diverse unit, a family, which usually includes people of different ages and professional backgrounds, who may like opposite things and may even have opposed opinions (this theme became the key motif of Miracle Whip's campaign, where the spread was positioned as an element which can both strengthen and destroy marriages).
The advertising agency Isobel initiated The FamilyBrands survey, which was conducted in association with YouGov in October 2011 among 1,500 adult respondents, to find out which of the brands on the UK market are most loved by a family as a whole, not by its members individually. The results of the research, which determined the most popular family brands in 12 major categories like food + drinks, politics, FMCG, digital, airlines and restaurants, can be viewed at the www.familybrands.co.uk website. In this review, we are going to touch on the most important highlights of the research.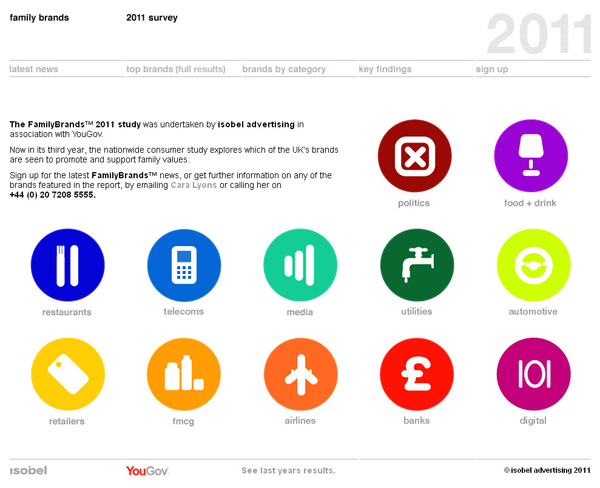 Photo: A snapshot of the www.familybrands.co.uk website. Click to enlarge
Here is the list of top 10 UK FamilyBrands 2011:
1. M&S
2. Boots
3. Fairy
4. Co-op
5. Innocent
6. John Lewis
7. Waitrose
8. Hovis
9. BBC1
10. BBC2
Consumers rated brands based on key values, saying if the brands are 'socially responsible', 'caring' and 'good listeners' to them. As it turns out, retailers are the leaders of the chart (they scoop five out of ten positions on the top brands list), with Marks & Spencer occupying the first place. This is quite predictable, considering the fact that shopping venues are in some way the symbol of unity for a family since there everyone can find something just for him or her. Steve Hastings, Planning Partner, Isobel explains, "We believe in harder times people fall back on brands they trust, brands they are familiar with and brands they feel at home with. That's why some brands this year have fallen sharply—people feel they have abused their trust (e.g. Conlib coalition, the News International titles). At the same time we are open to new ideas and want to be surprised and delighted by new ideas—especially those relevant to day-to-day family life. Hence we see a refreshed McDonald's rising up, as well as Innocent doing well with their wider product range and bigger advertising spend."
The top family brand of 2011, M&S, has gained 5 places as compared to 2010, proving that it's even closer to the hearts of UK consumers than brands which are traditionally positioned as family ones like IKEA (not featured on the list at all) or McDonald's (though, the fast food giant also ranked quite high). The retailer, which announced last week that it is going to transform its website into a global, multichannel marketplace using IBM Start Commerce approach, has become #1 for UK families primarily thanks to its ultimate desire to respond to consumers', both adults and teens', needs and desires and entertain them. For instance, it has reached the younger generation by collaborating with ITV and Britain's Got Talent searching for children to get them featured in ads as well as partnered with The X-Factor. The company is now turning its stores into family-oriented venues—"The retailer is building up a demographic profile of all its stores by using criteria including affluence and age. This data is used to decide the layout of the stores to classify it into segments including 'family first'," writes Marketing Week.
M&S is followed by the health and beauty retailer Boots that lost one place, but still outperformed the UK's biggest supermarket chain Tesco, which dropped 7 places and landed on #24 position in the overall chart. In August, Boots UK partnered with professional female athletes to launch the 'Get active' campaign, providing women and their families across the country with tips and advice on how to lead healthier lifestyles. Still, Tesco was named the UK's 8th best 'good listener', moving up five places, but it dropped down as the 'socially responsible' 'caring' and 'promoting and supporting family values' retailer. "Tesco did very well in the first study (2009) as the people's price fighting champion. However all retailers are, in their own way, claiming this position and some have been discredited as misleading consumer's over the extent of the real price drops. And with advertising that hammers home the price message but lacks Tesco's playful humour, the brand appears to have lost some of its shine," added Steve Hastings.
Coca-Cola, which takes #4 position on the UK Kids Brand Index, is featured on the major list as the brand #48 and got on the 15th place in the food and drink category, while Cadbury took # 6 position there (it was on the 12th place on the kids' list). McDonald's, which has the impressive 'family' image, is ranked #2 on the restaurants list, being shifted by Pizza Hut, which has recently set to "radically transform its business from a product based to an experience based model," as MarketingWeek reports. As it turned out, the company is now effectively delivering on these goals.
As to digital, surprisingly enough, in the overall chart Twitter takes the position #82 with 10 places up and technically, from the growth point, outshines Google (it hasn't either gained or lost any places as compared to 2009) and Facebook (which lost 16 places), even though these companies occupy #21 and #59 positions correspondingly. In fact, the micro blogging service grew in UK families' estimation thanks to its keeping to core principles of social media—to provide people with a platform for communication with each other, not for becoming a target of products promotions. But interestingly enough, men put Facebook on #51 position in the 'family brands' chart (they believe Twitter should be the 61st), while women ranked it #63 (in the female ranking, the micro blogging service takes the 95th place), and only 2% of respondents believe that this social media giant is 'promoting and supporting family values'. "Whilst most of us joined the social behemoth to connect with family and friends, reports of misuse of data, a lack of communication regarding changes to the site and a steady infiltration of brands using it as a marketing channel mean that, for many, Facebook is losing its original purpose: the user feels like they are being used," shared Amber Faulkner, Digital Integration Director, Isobel. "UK consumers are increasingly seeing a role in their lives for Twitter."
As to the top UK family airline, this title was given to British Airways, which moved up 23 places to the 37th position, ending up above Virgin Atlantic, the leader of the previous airline chart. In September, BA launched the biggest campaign in the decade, 'To Fly. To Serve,' improving the customer service and the flying experience on the whole (the crew cabins even got iPads).
The best climbers of this year is FT, which added 40 places and ended up on the 63rd position, and the poorest one is Conlib coalition (-36, #71) and The Times (-23, #69). Apple (#39), Costa Coffee (#60), BT (#70), Audi (#80), Starbucks (#83), and BMW (#90) are the brands which got featured on the list for the first time, and we will be able to see the dynamics only next year, when the results of FamilyBrands 2012 will be revealed.
Author: Anna Rudenko, editor at Popsop, marketing communications expert at BQB.