Rihanna Designs a Capsule Collection for Armani
Rihanna, who is fronting Nivea's 100th anniversary campaign, is also collaborating with Armani, both as a face of the fashion giant's new promotion (launched earlier this fall) and as a designer of a new capsule collection of apparel, which includes lace lingerie in a special bag, two styles of jeans, a leather biker jacket, two tees and a leather bag, featuring the signer's 'R' logo and the eagle, the symbol of the fashion brand.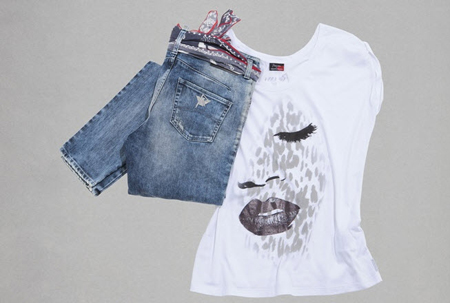 Photo: Rihanna's capsule collection for Armani
A selection of key pieces from new Armani Jeans and EA Underwear collection will be available worldwide in the coming weeks, and so far the brands doesn't say anything about the prices (traditionally, Emporio Armani Underwear ranges from about $15-$60, and Armani Jeans are sold for $185-$250). Rihanna x Armani T-shirts are simple but nice, one of them features the logos and the other got a profile of the signer's face on the front. The jacket is stylish and hip as well, it's black, leather and adorned with a lot of zippers, just as Rihanna likes—this piece goes with a leather bag of the same colour and style.
"If you were shopping with Rihanna, what would she pick out? This range of items gives you an idea. Any girl knows that a great look starts with a great pair of jeans, and this capsule collection features two different—but complementary styles: a classic, skinny leg jean that will take you anywhere, from morning coffee to the club, and Rihanna's favourite cut, a 'boyfriend' jean but with a slimmer leg. Both styles come in either blue or black stretched denim, to suit whichever mood," says the brand's website, describing the new jeans offerings. As to the lingerie, the see-through lace bra and panties come in two colours, pearl grey and cobalt blue, the straps feature the message saying 'Rihanna for Emporio Armani,' and the fastening got the singer's profile and the brand's logo.
"As the new face for the Armani Jeans and Emporio Armani Underwear line, Rihanna's style and taste shines through in these limited edition pieces. That said, this capsule collection is utterly perfect for personal interpretation. Consider it a starting point and run with it," adds he brand.