Bombay Sapphire Has Teamed up with Barking Irons to Create a Bar Bag
Alcohol drinks manufacturers always strive to provide its consumers not only with drinks, but also with an opportunity to enjoy various mixes on the go. Such brands as Veuve Clicquot, Perrier-Jouët or Cointreau have already unveiled their own high end bar bags, fridges or bottle coats for those who like to have their drink while travelling. Following in the footsteps of its rival brands, Bombay Sapphire has collaborated with the New York-based design company Barking Irons to create a portable bar in a soft pebbled leather case, which contains all the esentials a professional mixologist may need to prepare a drink.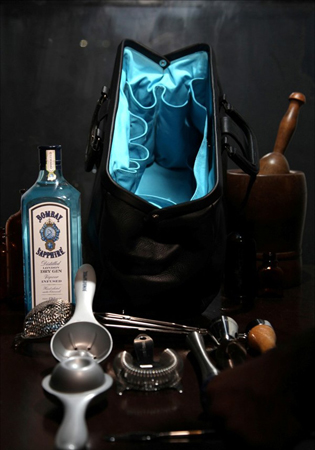 Photo: www.luxury-insider.com
"A proud collaboration between Barking Irons & Bombay Sapphire, the Bar Bag is inspired by classic gentry style of 19th Century London. This highly-limited item was modeled after antique medical kits from the age of home-visiting doctors. The Bar Bag simultaneously references the early medicinal remedies attributed to gin as well as the pride and skill that modern cocktail culture commands of its distinguished purveyors," writes the www.barkingirons.com in the description to the new item.
The case, which is has the heavy water resistant waxed-canvas interior in the iconic blue Bombay Sapphire, has a range of bar tools including Bar Spoon, Paring Knife, Juicer, Muddler, Japanese Strainer, Ice Pick, Jigger, Traditional Strainer, Shaker & Glass. The shape of the bag is quite unique for our modern era of laptop cases, clutches and shoulder bags since it roots in the style of the 19th century British physicians' luggage, which was designed to be used for carrying a lot of sharp instruments and heavy, wet tools. So, it perfectly meets the requirements for a mixologist bag—being made of durable cow leather, it can hold the metal and glass equipment plus and the alcohol and syrup bottles. Though it looks heavy and robust, the case is very soft, functional and comfortable to carry.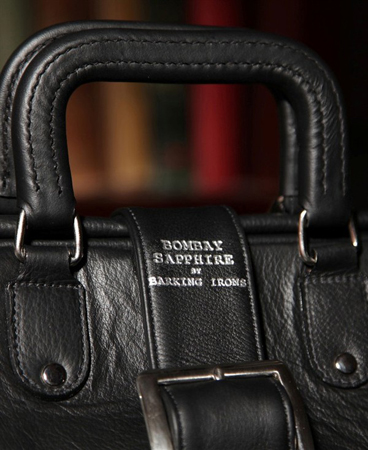 Photo: www.luxury-insider.com
The new, fully-equipped portable bar costs $495, and can be purchased from here.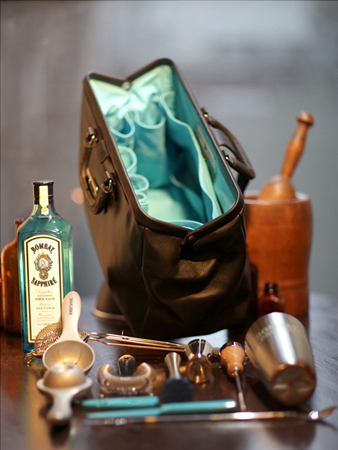 Photo: www.luxury-insider.com