Tropicana Has Illuminated London with the Trafalgar Sun
On January 23, Tropicana turned central London into a bright and light place that was aimed to smooth over cold winter days in the Trafalgar Square area.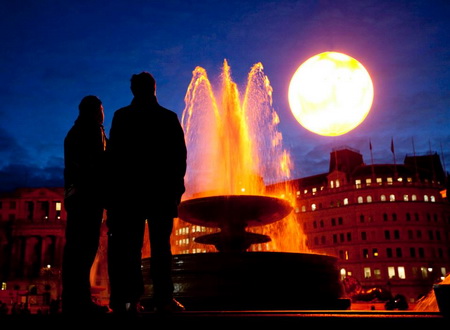 Photo: the Trafalgar Sun, from Tropicana Facebook page
A public art installation called the Trafalgar Sun was designed and built by the UK's leading artists' collective Greyworld. Fruit juice experts of Tropicana signed the artists to launch a new project within their Brighter Mornings campaign.
Tropicana encouraging members have gathered under the Trafalgar Sun encouraging the public to come down and "blow away their winter blues by bathing under its warm glow".
Tropicana spokesperson, Pete Charles, said: "Sunlight is something many of us crave mid-winter. We hope that this stunning art installation will both amaze and enthuse those who see it, whilst brightening their mornings on a miserable January day. We hope people will be able to come down, relax in our deckchairs and enjoy a glass of Tropicana whilst watching the spectacular sunrise. The perfect start to a January day."
It took six months to create the Trafalgar Sun that is 30,000 times bigger than a football, with a surface area of 200 m2 and weight over 2,500 kg. It produces 4-million lumens of light, the equivalent of 60,000 light bulbs, making the artwork visible from space.
The Sun was launched before sunrise and stayed lit until 7:33 pm providing Londoners with 3 additional hours of the daylight. A video of the Trafalgar Sun is to be viewed at facebook.com/TropicanaJuices as well as on Youtube.