Coca-Cola Has Released 'Reasons to Believe,' Its 8th Sustainability Report
Coca-Cola has released its eighth Sustainability Report, titled 'Reasons to Believe'. The 2010/2011 Sustainability Report provides an in-depth review on the sustainability efforts of the company and its nearly 300 bottling partners and is based on the stakeholder feedback. For the first time, it was created in a digital format for people to access it from smart phones and tablets and is also available online.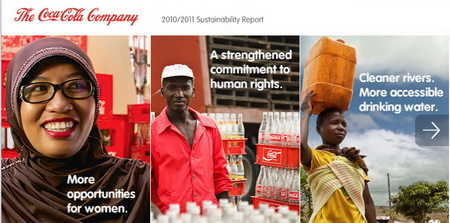 Photo: Reasons to Believe, a snapshot from www.thecoca-colacompany.com
"Sustainability has been core to our business strategy for nearly 125 years," said Chief Sustainability Officer Beatriz Perez. "After receiving feedback from a variety of stakeholders, we decided to make some significant changes to our sustainability reporting efforts. In addition to increasing transparency within the content, we have taken a digital approach to make the report more user-friendly and accessible on a variety of mobile devices. As we continue to strengthen our sustainability efforts, we also will innovate the means by which we share our progress."
Coca-Cola report follows the disclosure and reporting requirements of the Global Reporting Initiative (GRI) to achieve a self-declared grade level 'B+.' It also received verification by a third party agency.
The four main areas of focus include water stewardship, energy efficiency and climate protection, sustainable packaging and healthy communities. It encompasses such activities and innovations as Our PlantBottle technology, reducing the average amount of water required to produce each beverage serving, and reducing global carbon emissions by 2 percent.
Coca-Cola also reached its goal to give back at least 1 percent of its operating income to communities worldwide in 2010 by giving $102 million. It also gained traction with the new 5 BY 20 initiative to empower 5 million women entrepreneurs by 2020. In addition, Coca-Cola also increased the number of women in system leadership roles, going from 23 percent in 2008 to just over 27 percent in 2010.
The report can be viewed here.