Coca-Cola GB launches See Plastic Differently Campaign
Christmas is often a time of excess, but Coca-Cola is launching a campaign to inspire people to think twice about throwing away all their empty drinks packaging.
It is staggering that two-thirds of plastic bottles that go through every household are still not being recycled.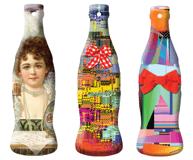 This festive season, Coca-Cola has commissioned a limited edition range of exclusive Christmas decorations, designed by cult design duo Basso & Brooke and musician and TV personality Alex James, all made out of recycled plastic to encourage consumers to think differently.
This forms part of the 'See Plastic Differently Campaign' – a Coke initiative to remind consumers of the benefits of recycling plastic bottles by illustrating that they are not just waste, but have a second life through recycling.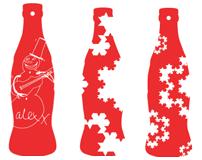 The distinctive decorations will be available to consumers, and with every one ordered, Coca-Cola will make a donation of GBP 5 to Together, the climate change charity campaign.
This particular campaign is part of the wider ambition by Coca-Cola to use 25% recycled plastic (rPET) in all its bottles across Europe by 2010.
It's a virtuous circle, and an essential part of it is if more people recycle their plastic bottles this Christmas and beyond, the more recycled plastic Coke can put back into its bottles.
Currently in the UK there is not enough high quality rPET to be able to put back into the chain and there haven't been enough facilities to convert plastic bottles into rPET, but Coca-Cola is now a major customer of the newly opened Closed Loop Recycling facility in Dagenham, which is producing the UK's first food-grade recycled plastic for use in drinks bottles.
If every household in England recycled 'one more thing', the total amount collected for recycling could increase by more than three quarters of a million tonnes and could potentially raise the national recycling rate by up to 3% to make it around 38%.
The designer collaborators are also creating giant Christmas trees with a difference – all made out of recycled plastic.
The unique festive structures are a visually intriguing part of the campaign to help consumers look at plastic differently – and realise the potential value of an empty drinks bottle.