Venus and Olay Rolling out a New Razor
P&G USA's brands Gillette Venus and Olay have teamed up to introduce a new premium standard in shaving, the new Gillette Venus & Olay razor. Venus provides the new product with its five-blade technology, while Olay helps to avoid skin dryness with skin conditioners for shave gel bars.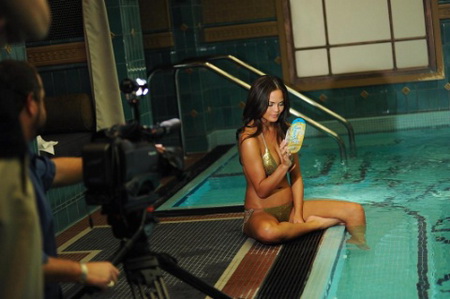 Photo: Chrissy Teigen with the new Gillette Venus & Olay razor
"The Venus & Olay razor is revolutionizing the shaving aisle. There might be other razors claiming skin benefits, but only Venus has the benefit of this unique partnership with Olay, and their rich heritage and expertise in skincare," said John Holding, Marketing Director, North America, Gillette & Venus. "When it comes to shaving, women want the best of both worlds: they want effective hair removal, and to also keep their skin looking—and feeling—its best. Venus razors have always offered women Goddess Skin, because shaving is where it all begins. But Venus & Olay is the newest and an outstanding way to achieve it."
The new Venus & Olay razor is designed to help women get the perfect skin they desire. To research what 'Goddess Skin' means to women, Venus commissioned Harris Interactive to conduct an online study among more than 6,500 women in 13 countries. They found out that seven out of ten women (68%) indicate 'Goddess Skin' is something they want.
As part of the launching campaign, Venus put new Venus & Olay to the ultimate test of Sports Illustrated Swimsuit 2012. They will provide women with a behind-the-scenes look at what it takes to prepare for the most-viewed swimsuit shoot of all time. Starting February 14, 2012, SportsIllustrated.com will feature four custom webisodes created with Venus, highlighting a day-in-the-life and beauty secrets of Swimsuit model Chrissy Teigen. The model will demonstrate how she achieves 'Goddess Skin' with her Venus & Olay razor. Last year Venus signed singer and actress Jennifer Lopez as its first ever beauty ambassador.
Venus will give away new razors on Facebook starting the evening of Sunday, February 12, though the new product will not be widely available until March 15. A refillable Venus & Olay razor with one replacement cartridge will cost approximately $8.99—$10.99.