Kotex Enters K-C's Leading Brands List
Kimberly-Clark's Kotex brand crossed the billion-dollar global net sales mark in 2011, according to the announcement the corporation made yesterday, on February 20.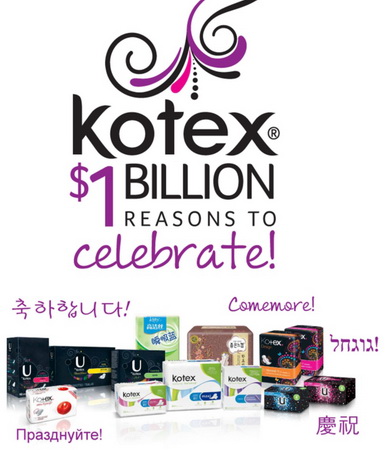 Photo: Kotex one billion logo
The brand has been growing during two consecutive years in the feminine care category. Now, Kotex joins the company's roster of four billion-dollar brands, including the Kimberly-Clark, Huggies, Kleenex and Scott.
Kotex vibrant and bold design has revolutionized the category of feminine care, while U by Kotex campaign motivated women not to hide the truth.
Kotex has also built its strong brand reputation with help of humor. Its famous U series of tampon products targets young creative women using elements of comedy and mockery. Now, K-C launches the new Kotex Natural Balance line with ads that ridiculing the blue fluid that appears in traditional woman products ads, as well as making fun of cheerleaders and notorious women in white leotards, says Ad Age. One shows a comedian who mocks the idea of 'sport tampons,' asking: "Why don't they make a tampon for when I'm buying a cantaloupe or eating brownies?"
"The company that created the category is now redefining feminine care with bold products and real talk," said Giuseppina Buonfantino, Vice President, Global Adult & Feminine Care Sector. "Kimberly-Clark will continue to develop innovative solutions to meet women's needs and further growth our feminine care business worldwide."