Tesco and RSPB Are Aimed to Save Rainforest
Tesco has teamed up with RSPB to roll out an ecology campaign that is aimed to raise £1 million for the rainforest protection.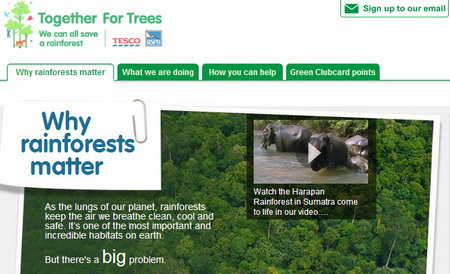 Photo: Tesco explains consumers the importance of saving the rainforests, a snapshot from www.togetherfortrees.com
Tesco is asking customers to support the initiative and donate either using their Clubcard points or directly. The supermarket giant promised it will donate to the initiative £75,000 raised from the sale of its Together for Trees-branded reusable bags. To engage consumers, Tesco will give shoppers a chance to win a trip to a rainforest and become its 'rainforest reporter.'
According to RSPB, the money raised will be used to support different rainforest saving programs, including Harapan Rainforest in Indonesia, Gola Rainforest in West Africa and Centre Hills National Park in Montserrat.
Tesco's efforts will include the co-work with RSPB to identify areas where it can reduce the harmful influence of its products on the environment. The companies will develop a new sustainable strategy for the products from tropical regions that are commonly used to make goods: soy, palm oil, cocoa, coffee and beef.
Tesco has been raising awareness on the problem of climate change for several years after it made a commitment to improve its sustainability record at 2010 Cancun climate change summit. It also joined 2C˚ Challenge Communiqué last year.
Additionally, Unilever announced it intends to make its Magnum brand the first world's ice-cream to source 100 % of its global cocoa supply from Rainforest Alliance Certified farms by 2015, says Businessgreen.
For now, Unilever offers two varieties made using only Rainforest Alliance-certified cocoa to produce its Magnum Ghana and Magnum Ecuador brands. Within the new initiative it will increase the number of certified supplies across all its products. Unilever hopes to deliver 100 per cent of cocoa comes from sustainable sources by 2015.