Sshh Branding… The Quiet Revolution
The article is written by Greg Taylor, Director of Brand Provocation at Elmwood, London
Feeling under pressure? Caught up in a frenzy of non-stop socialising on Facebook, Twitter and Yammer? Constantly being bombarded by brand extroverts making the most of their newfound 'transmedia' opportunities? These days, it's almost impossible to escape the various digital demands of 'your community' or the intrusive molestations of brands. It's at times like this I long for Icelandic singer-songwriter Björk's calming lyrics, 'It's, oh, so quiet shh, shh. It's, oh, so still shh, shh. You're all alone shh, shh. And so peaceful….'
Peaceful stand-out
It's not surprising in a hyper-competitive world that people and brands clamour for our attention. They shout louder and louder to be heard. There are those, though, who've chosen another path, embracing what author Susan Cain explores in her new book as 'the power of the introvert.' They're putting the sshh into shout!
A wonderful example of this preference for peaceful stand-out is Japanese retailer Muji. Their vision is eloquently put. 'Muji is not a brand. Muji does not make products of individuality or fashion, nor does Muji reflect the popularity of its name in its prices. Muji creates products with a view toward global consumption of the future. This means that we do not create products that lure customers into believing that 'this is best' or 'I must have this.' We would like our customers to feel the rational sense of satisfaction that comes not with 'this is best,' but with 'this is enough.' 'Best' becomes 'enough'.'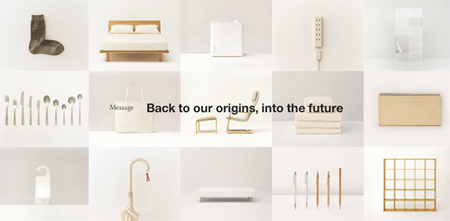 Photo: www.muji.com/message
Another brand that gets this idea of 'quiet power' is Clear, the new iPhone to-do list app. After only 9 days on the App store it sold 350,000 copies and went straight to number one. Unlike most to-do apps, Clear relies heavily on gestures to take control over your life. A swipe to the right crosses off an item (or list), a swipe to the left removes an item, pulling down creates another, and pinching closes the list you're in. Clear is popular because it's simple and intuitive and emulates the best to-do list most of us have ever had: a piece of paper.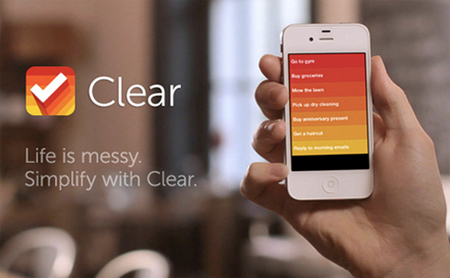 Photo: www.itlounge.eu
We can also see the 'sshh' theme developing in the worlds of entertainment and leisure. Who would have dared to think that the silent movie The Artist would clean up at The Oscars, the BAFTAs and the Golden Globe awards? And the internet film rental service Lovefilm reported that the buzz around the The Artist sparked a boom in curiosity about early cinema, with a 40% rise in the number of people streaming silent films on its site in the week leading up to the Oscars. This could, of course, be novelty or it may be the desire to experience a simpler charm. Only time will tell.
A silent celebration of a different kind is currently taking place in India. Silent parties, which have taken Mumbai and Goa by storm, are becoming increasingly popular in Bangalore where party animals are getting quieter on the dance floor.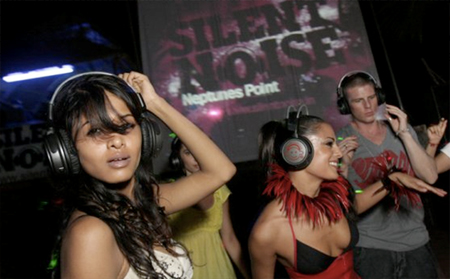 Photo: fbcdn-sphotos-a.akamaihd.net
Connected to the music with wireless headsets, hundreds of happy clubbers can dance the night away without disturbing the neighbours—or breaking the law. With three DJs playing live, partygoers also have the added benefit of being able to change club without changing venue. By simply switching the headphone channel, they can move from a techno rave to retro tunes or the latest in electro house.
Even the Marriot Hotel chain is offering a deluxe unplugged weekend package. Their Renaissance Pittsburgh Hotel is helping people unplug and recharge with their 'Zen and the Art of Detox' break.  At check-in, participating guests surrender their laptop, iPhone and other digital devices for safekeeping until departure. Literary classics and other forms of analog entertainment fill the digital void inside deluxe king rooms. Going cold turkey on the wifi could become all the rage as we seek places to unwind, digitally and physically.
Power down time
We all need time to power down, especially in the creative industry. It's not enough to be continually stimulated—you also need to find the space to reflect on that stimulation. One super successful designer who recognises the need to power down is Stefan Sagmeister. Every seven years, he closes down his studio completely for one year. His reasoning: 'From my experience I did my best thinking when not under pressure.' Interestingly, Sagmeister says the ideas he comes up with during that one year are often the ones that fuel the financial success for the next seven. Let's not forget its success that includes winning a Grammy! This strategy is also designed to help him ensure that his work remains, 'a calling', and stays fresh.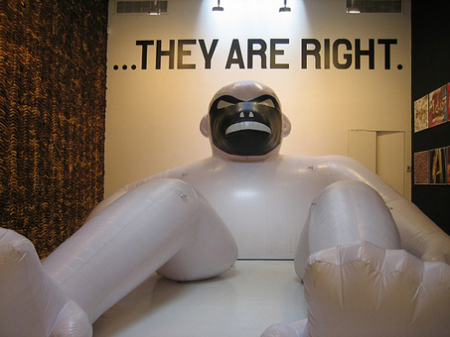 Photo: www.eaesthete.files.wordpress.com
Photo: www.sagmeister.com
Sagmeister isn't the only one to power down successfully. Ferran Adrià has been called the world's greatest chef. He is certainly one of the most creative. Gourmet magazine referred to Adrià as 'the Salvador Dali of the kitchen.' Before it closed for good, El Bulli was named best restaurant in the world by the prestigious Restaurant magazine. With over 2 million people vying for the coveted 8,000 seats, Adria and his team needed to come up with amazing gastronomical feats. In order for this to happen, El Bulli closed its doors for six months every winter while Adrià and his team headed to Barcelona to create astonishing new dishes.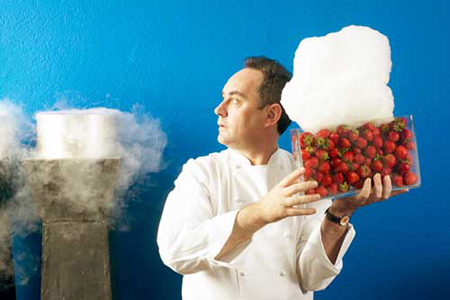 Photo: www.lightamber.files.wordpress.com
Time to be quiet
The quiet revolution is well under way, helping many become more creative and more effective at what they do—whether they be retailers, designers, chefs or clubbers. Some are even going as far as trying to teach the 'power of quiet'. Film director David Lynch and the Maharishi Foundation are helping to introduce Quiet Time into over 350 schools around the world. Making the Transcendental Meditation (TM) technique available to help students reduce stress, improve academic performance and, most of all, awaken their full creativity and intelligence. Perhaps in the future, helping people unplug may be as valuable a service as connectivity once was.
About the Author

Greg Taylor became founding partner in global brand design consultancy Elmwood in 1989. Now Director of Brand Provocation, Greg is the creator and facilitator of Step Change™, Elmwood's strategic tool for moving ideas forward. Clients include ASDA, Wal-Mart, Arla Foods, BBC, COI (Defra and DfT), Cable&Wireless, Comic Relief, Debbie & Andrew's, Durex, Glasgow 2014 Commonwealth Games, McCain, and the Met Office.