Identica Designs the UK's First Ever Range of Chilled, Organic Drinks for Kids
PIP Organic, the company specialising in 100% pure, healthy and organic juices have announced the launch of PIP Kids, a new range of chilled drinks especially designed for children and young adults.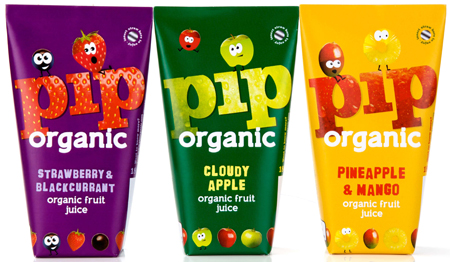 Photo: PIP Kids packaging designed by Identica
A new addition to the successful PIP Organic range designed by Identica in 2011, PIP Kids is the first chilled product of its kind to launch in the UK market.  There are three delicious fruit flavors to choose from—cloudy apple juice, strawberry and blackcurrant juice and a pineapple and mango smoothie. All three combinations were given the seal of approval by children themselves during taste tests carried out in the product development stages.
From this week PIP Kids will be available in Tetra Wedge cartons in a number of high-end grocery outlets, including Planet Organic, Whole Foods, Ocado.com and Waitrose.The team at PIP Organic works closely with farmers to guarantee the quality and origin of the fruit ensuring there is no need for the juice to contain added sugar, water, concentrates or preservatives—only 100% natural goodness.
Sam Stone from Identica says, "Building on the design solution developed for Pip, a kids line extension was created with a brief of communicating 'good fruity fun'. The window for the pip logo was retained from the adult brand but supported by cheeky fruity characters and bright colours to denote the various flavours. Our aim was to create a playful, slightly mischievous design that would appeal to kids, while simultaneously reassuring mums about the quality of the product."