Stella Artois Partners with MUBI to Provide Online Film Experience to Its Fans
The biggest cinema fan in the beer family, Stella Artois in partnership with film platform MUBI is kicking off another project revolving around the cinematic theme, which comes as an addition to a range of similar initiatives launched in the previous years. The new project is not related to the Cannes Film Festival as might be expected (being the official sponsor of the event, each year the brand launches a campaign ahead of the festival, which is traditionally hosted in May), and is more like a spin-off of a successful initiative, launched by the brand in summer 2011.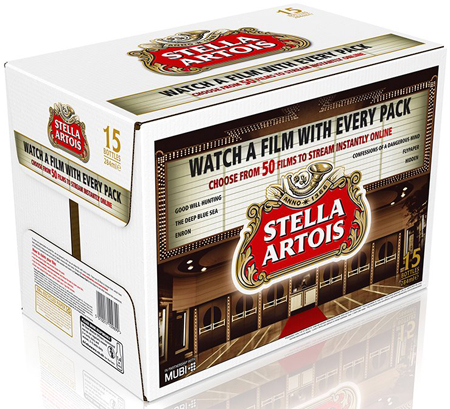 Photo: Stella Artois/MUBI pack, www.facebook.com/stellaartoisuk
The lager brand is providing its fans from the UK, the Channel Islands, the Isle of Man and the Republic of Ireland with an opportunity to enjoy a great beer and a great movie at one time. To get access to Stella Artois' cinemateque and stream a film online, a consumer has to purchase promotional packs of Stella Artois and Stella Artois 4%, and then enter the code on the dedicated page www.stellaartois.com/cinemaclubuk. Consumers can watch 1 film each week (each film can be viewed for up to 7 days), up to 4 films in total during the promotion. Users can choose from 50 titles, which include award-winning movies and legendary films such as Krzysztof Kieślowski's 'Three Colour' trilogy, Terry Gilliam's 'The Brothers Grimm', and Laurent Cantet's 'The Class' to name but a few. The new initiative will be supported by a range of in-store promotional elements including six sheets, pallet wraps and promo displays, geo-targeted text messages, online banners and promotion on Facebook, for better consumer engagement.
"We know Stella Artois consumers are passionate about great film, so we're very pleased to once again bring them an exclusive film offer we know they'll love. Last year's on-pack DVD offer was one of our most successful promotions ever with an incredible 10% redemption rate, and we're continuing to evolve with this year's offer which makes use of MUBI's innovative online streaming platform and cinema community," commented James Watson, Marketing Director, Stella Artois Western Europe.
As to the 65th annual Cannes Film Festival, on its Facebook page Stella Artois is offering its UK fans to win a trip to Cannes—the sweepstakes ends on April 5.