Kellogg's Special K Launches a New Campaign in Australia to Help Women Prepare for Snack Attack
Clothing, footwear and accessory giants often team up with fashion designers to create a new collection, but collaborations of food brands and fashion are not that frequent. This fact makes people want to get such products even more. In Australia, Kellogg's cereal brand Special K has unveiled a bag, which was created by fashion designer Kirrily Johnston, which became both the promotional piece and an item in designer's new Spring/Summer collection presented at the Mercedes Benz Fashion. This handbag with a leather tassel is crafted for female consumers who always carry a snack with them wherever they go—it features a specially designed snack bar pocket, where ladies can keep her Special K snack bar.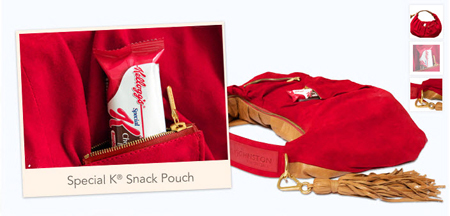 Photo: Kirrily Johnston and Special K's bag, www.handbag.specialkfoods.com.au
The exclusive red suede bag, which is sold for $750, "a visual cue to help the 96% of women who think about snacking each day to prepare for their looming snack attack," is just part of the campaign, launched by the brand in Australia. The brand has also launched activation on the www.handbag.specialkfoods.com.au website, highlighting various 'bag related' facts from women's life from its Handbag Exposé research. It also offers women a chance to win one of the limited-edition bags from April 30 until June 26.
"This is the first collaboration of its kind that Kellogg Australia has embarked upon. Snacking is an important part of any healthy diet but it has to be the right kind of snack and we know from research that Australian women are falling short when it comes to preparing a snack they can feel good about eating. So we decided to call upon one of Australia's leading fashion designers Kirrily Johnston to create a bag that women will not only love but that will also act as a reminder for them to prepare for the right kind of snack every day," shared Kellogg's marketing manager Nik Scotcher.
The intergraded marketing campaign also includes radio and retail point-of-sale promotion, as well as on ground promotions—for instance, before the presentation of the bag, the brand invited women at Westfield Sydney to weigh their bags and tell about the things they carry in them.