Oscar Mayer Says that Its Oscar Mayer Selects Meat Line Is 'Yes Food'
Kraft Foods' Oscar Mayer has launched a humorous campaign in the U.S., which is promoting the brand's Oscar Mayer Selects, the new line of meat products without preservatives. The new promotion, the largest one in the brand's history, was developed by mcgarrybowen Chicago—it is dubbed 'It's Yes Food' and is revolving around saying 'no' and 'yes' in daily life. The campaign is rolling out across multiple platforms, including TV, print and online, communicating the message of how easy it is to say 'yes' to  Oscar Mayer Selects—Hot Dogs, Cold Cuts and Bacon—without any artificial preservatives.
The creative team behind the campaign decided to choose a contemporary style, which would appeal to both brand's loyal consumers and new audience. According to the Landor Brand Health Update BrandAsset Valuator, the brand has successfully differentiated for its competitors over the past five years, and "consumers find the Oscar Mayer brand to be more relevant, authentic, distinctive and straightforward," says the press release. The campaign, which will be running through the end of summer, is targeting consumers who make their food choice every day and always strive to remain on the healthy side.
In the new series of funny and realistic spots, the brand is highlighting every day life of an average family—the Mayer Family,—where 'no' is a more popular word than 'yes.' For instance, in the family mother doesn't let her husband wear skinny jeans or a huge TV set and her son keep a reptile as a pet at home, a father doesn't let his daughter's boyfriend in when he's at the door, and so on. Still, each of the spots finishes with a positive answer—'yes'—related to eating Oscar Mayer Selects products. Maybe, it's one of the best reasons to say yes. The prints, which will appear in entertainment, health and lifestyle magazines, feature a list of four answers to the "Which of the following should you say yes too" question.
"We know that 'no artificial preservatives' is an important attribute to consumers and, by launching Oscar Mayer Selects, we can reach new consumers by meeting this consumer need. We're now poking fun at the messy, imperfect moments experienced daily as we struggle to make better choices.  This allows us to show that Oscar Mayer Selects is an easy and delicious choice when it comes to breakfast, lunch or dinner," shared said Tom Bick, Director, Marketing Communications & Advertising at Oscar Mayer.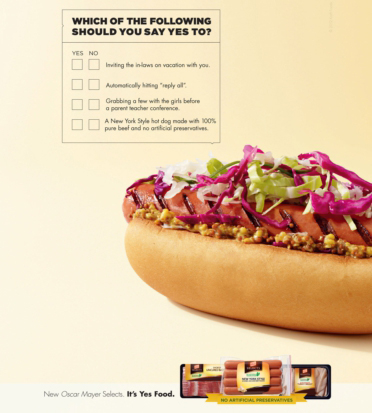 Photo: A poster of the 'It's Yes Food'