McDonald's Germany Will Produce Its First Crowdsourced Burger
McDonald's celebrates its 40th anniversary in Germany by creating its first crowdsourced burger.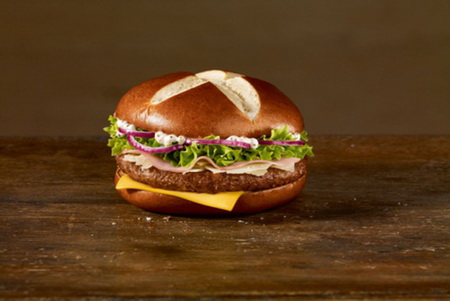 Photo: the Prezelnator, fom psfk.com
This is a part of the 'Mein Burger' (My Burger) campaign designed by ad agency Razorfish Germany. Fans were encouraged to invent their own burger using an online burger configurator, name it and let the public decide which one is the best. The 5-weeks campaign was designed to be 100% social as participants could not only create the burgers but promote it both online and offline using banners, videos and posters.
The 116,000 new burgers were voted on by over 5 million people and the only one creation was chosen to hit the 1,415 McDonald's restaurants in Germany. The winning burger, a truly 'Deutsch' one is called the Pretzelnator. It consists of ham, American and Italian cheeses, and a typically German pretzel-like bun.
The campaign proved to be very successful. The 'Mein Burger' has got 7 million page impression. According to Razorfish, every 4th German took part in the campaign. The video sharing the facts about the campaign can be viewed here.
It's not the first McDonald's crowdsourcing campaign, the first one was launched in 2011. Now it is being replicated in more McDonald's in Europe, including the Netherlands, Spain and Austria.
Currently, McDonald's is promoting its American burgers in the UK.