MasterCard Helps Fight Corruption in Russia with a New Debit Card
The financial services brand and Russian business support fighting with corruption in Russia. Moscow opposition figure Alexei Navalny is about to issue co-branded debit cards with an unnamed Russian bank later next month.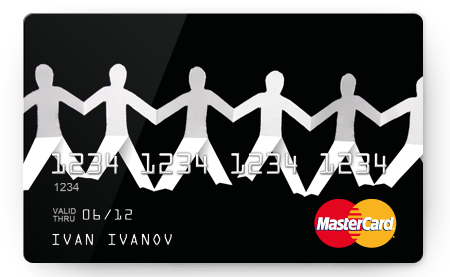 Photo: Navalny card, from navalnycard.ru
One percent of all transactions made with the card would be transferred to a non-commercial organization called The Fund for Fighting Corruption, established by Navalny in 2011. This one percent will be provided by the bank.  The slogan on the dedicated web site, where the card can be ordered, says: '+1% to self-respect.'
The card with the MasterCard logo is designed to demonstrate that the owner "is a person who is not afraid and who cares," said Anna Veduta, Navalny's spokesperson. The card will be issued on standard terms and conditions. According to the research conducted by Radar agency, there are 4 million potential customers for the card in Russia.
Navalny has not disclosed the name of the issuing bank but it's known already that Probusinessbank, Svyaznoi, Alfa-Bank, G.E. Money bank, Tinkoff credit systems and Vyatka has nothing to do with the matter, reports The Moscow News.
The Fund for Fighting Corruption encompasses all his projects such as Rospil, Rosyama, Rosagit, Rosvybory and Dobraya Mashina Propagandy. Navalny is looking for an open and non-anonymous source of financing with estimated yearly budget of $300,000. For now, the fund is supported by businessman Boris Zimin, son of Dmitry Zimin, the Beeline brand founder. Zimin donated 300,000 rubles and will transfer similar amounts monthly.
Former Alfa Group manager Vladimir Ashurkov was appointed the fund's executive director and also confirmed a donation of 300,000 rubles. Another partner is the managing partner of Alcantara Asset Management, Sergei Grechishkin also donated to the fund. Some of celebs including writer Dmitry Bykov also said that would make donation.
In Russia the share of co-branded cards is lower than in the USA and Europe, where plastic cards are 60 percent co-branded.