Echo Designs Sentimental Origami Heart SIM Card Packs for giffgaff
giffgaff, the UK virtual mobile network, has worked with design and branding consultancy Echo to create 5 origami-themed SIM card packs, which match its community ethos.
Building on giffgaff's word of mouth network via member recommendations, Echo designed a new format incorporating an origami heart for customers to create and engage further with the brand to help spread the 'giffgaff love'.
The design is visually based on the familiar giffgaff pixel icon.
Tom Rainsford, Head of Brand and Proposition at giffgaff says: "Sharing within a community environment is at the heart of the business and the new SIM packs are a great addition to our ethos. They are fun, encourage involvement and are great for delivering a functional product without losing our personality and our valuable customer connection."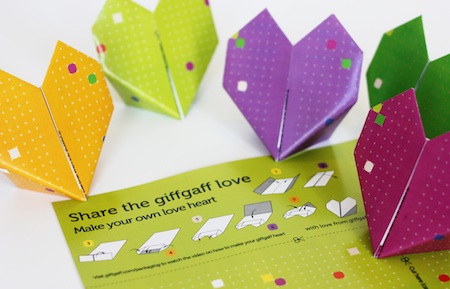 Photo: giffgaff's new SIM card packs, designed by Echo
The five packs are:
Hello – for a direct SIM purchase from giffgaff
Friends – for a new member via a friend recommendation
Share – for existing members who want to give SIMs to new members
Bonus – additional SIMs for key active members
Oops – replacement SIM when lost or stolen
Members will be receiving the new origami SIM packs from this month.