Microsoft's Social Network So.cl Targets Young People
Several months ago Microsoft launched a beta version of a social networking site called So.cl. Now it's available for all but mainly targets young audience. 
So.cl that is pronounced as 'Social' was created to combine the best features of Facebook, Twitter and Pinterest—the top 3 most popular platforms—as well as those of web browsing and search. It offers students to learn and share like never before and it seems that Microsoft is trying to create a new niche in the highly competitive social networking sphere.
Users can sign in service with their Facebook or Windows Live account that recognize the service as an app. Once you've logged in, you can choose topics and followers you're interested in. Topics include Travel, Photography, Science, Animals, Cars, Architecture etc. Clicking on the topics you can see users' searches on it. Users can share their search results with others using Facebook and email. There is also a So.cl bookmarklet available.
So.cl is an experimental service that  allows people to view each other's searches and be available to third parties. So.cl is open for people aged at least 18 years age.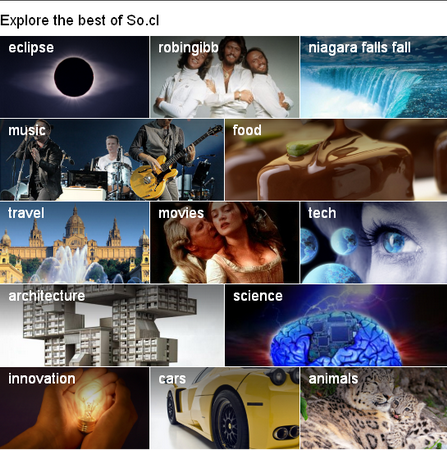 Photo: the so.cl interface, a snapshot