Hendrick's Gin Kicked off the Voyages Into The Unusual Tour in the US
Hendrick's Gin has embarked on a unique journey across the US to introduce its bizarre retro and fairy-tale style to the people in Houston, San Francisco, Chicago, Philadelphia and New York City. The brand, which is known for its unparalleled visual approach (its promotional activities and the website design are paying tribute to the cartoonyish and somewhat Monty Pytonish aesthetics), launched its five-port tour Voyages Into The Unusual on June 6. The brand will stop three nights in each of the destinations, transforming the hosting venues into a totally alternate realm, just like it did last this year as part of The Hendrick's Enchanted Forest of Curiosities tour.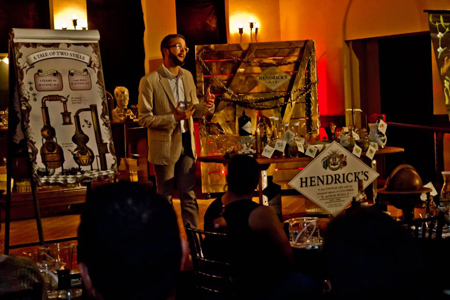 Photo: Hendrick's Gin Voyages Into The Unusual Tour, www.facebook.com/hendricksgin
The voyage, which will close on November 1 in NYC, will see Hendrick's Gin and its fans "bidding farewell to the humdrum, unfasten their senses and venture beyond what is known during three nights of awe-inspiring events," writes the brand in its press release. Hendrick's Gin is creating a surreal word, filled with antiquated or fairy tale characters like pixies, magicians, or even goatmen to name but a few, offering its guests an opportunity to enjoy the ever-evolving 'Hendrick's Traveling Punch' made of best local and seasonal ingredients, available in the city of destination, as well as other unusual alcohol cocktails including Greenwich Mean Thyme and Trip to the Moon, served by the weird whimsical and mystical creatures.
"Hendrick's 'Voyages Into The Unusual' provide a haven from the mundane while introducing people to the wonders of Hendrick's Gin. Travelers will get a peek inside our unusual world by learning about the history of our unusual spirit, tasting specially created libations and meeting entertaining and talented people who think about the world just a little bit differently. We can't wait to see who we'll get to know during our voyage across America," shared Joanne Birkitt, Hendrick's Gin Senior Brand Manager.
Each night, visitors to the Voyages will be offered various entertainment programs. They will be invited to learn more about the history of gin, tipples and punch on the first day, sample the unique and unexpected mixes and see performances by a group of people with unique and surprising skills on the next one, and the third day will be dedicated to the readers of the digital periodical Thrillist, the brand says that the closing night will be "full of extraordinary ventures, peculiar revelry and imaginative concoction."
To reserve a place at the tour, please, visit the dedicated page on the www.hendricksgin.com website.
Photo: Hendrick's Gin Voyages Into The Unusual Tour, www.facebook.com/hendricksgin