Starbucks Maps the British Isles on a Mug
Brands try their best to help big moments live longer, at least in our memory. This summer, virtually any British or international brand launched either limited edition packaging or a themed memorabilia dedicated to the London 2012 Summer Olympics and the Queen's Diamond Jubilee, and Starbucks is no exception here. The international coffee retailer has teamed up with pottery company Emma Bridgewater to create a mug that focuses on British craftsmanship and celebrates the British spirit this great summer and beyond. Starbucks sure that enjoying a cup of coffee in such a mug in, let's say, 2022 or even 2062, will help evoke nice memories of this summer.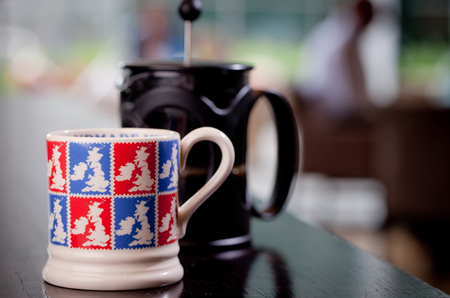 Photo: The Starbucks and Emma Bridgewater' mug, www.starbucks.co.uk
The hand-made ceramics mugs, which feature the British Isles' silhouette in traditional red, white and blue colors, went on sale in late May, and will be available for limited time only at select stores. There are only 6,000 of these mugs, which cost £19.95 each and will be sold throughout summer 2012. The companies are also offering a chance to win some prizes—visitors to the www.emmabridgewater.co.uk website can enter for a chance to win a £200 card to buy Emma Bridgewater pottery (for the grand winner) and the Starbucks mug along with £5 Starbucks card (for 10 runners-up).
"When I sat down in the studio to design the mug I started to work out how all of these elements [related to this summer events] could be brought together in a celebratory way. I took 'handmade coffee in a handmade mug' as the slogan… and I developed the patriotic red, white and blue theme, intended to invoke a sheet of stamps," shared Emma Bridgewater, the pottery company's owner in the Starbucks blog. "I worked with a sponged image of the British Isles, treating the silhouette as an icon which really pleased me, as I love repeating designs—for me this is the essence and the charm of old sponged designs. I hope you agree that the result is strong and effective, and perfectly complements your favourite Starbucks drink."