AT&T and BBDO Have Created the Daybreak Digital Experience
AT&T has rolled out an impressive online campaign developed together with BBDO New York and producer Tim Kring. Called 'Daybreak,' the campaign is created to showcase consumers the company's advanced technologies through a series of five online films, two websites and an app.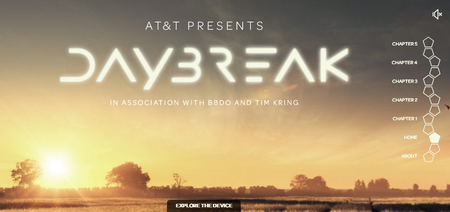 Photo: the Daybreak web site, a snapshot
The film series tells a story about an object called the dodocahedron (a 12-sided die). People follow the mysterious story online, at Daybreak2012.com, as well as using the app. The project was developed by the agency in collaboration with AT&T Labs' Sanjay Macwan using the Lab's latest technologies, says Shoot Online.
The main human character of the thriller films, Ben Wilkins uses technologies from AT&T on his mission to return the dodecahedron to its rightful place.
"There have been all kinds of marriages between Hollywood and marketing—with the BMW Films, for instance, we used Hollywood directors and actors. But this [Daybreak] is different," said David Lubars, BBDO North America Chairman and Chief Creative Officer. He finds that Daybreak is a logical continuation of the Touch series also created by Kring in which the dodecahedron was first introduced.
"Touch and Daybreak are placed under one umbrella, and we are hoping for a result where one plus one equals three," he added. "Where Touch ends, Daybreak begins and the plan is that in its five-episode run Daybreak will dovetail into and help further set up season two of Touch. They leapfrog each other and keep a momentum going for both series."
The second Daybreak website at www.jackboxers.com offers visitors another experience.  An underground group called the Jack Boxers assists protagonist Wilkins to achieve his goal as he fights with corrupt adversaries. Users can interact with bonus content on the web site getting more involved into the story. And finally, the app prolongs this experience as it is "designed to open new doors—it will empower users more as we get beyond the pilot episode," according to Lubars. The initiative unveils the AT&T's technology and innovation in a captivating way enabling users to literally touch it.
The company unveiled earlier this year it's developing the Digital Life System that will help people conserve energy at homes.