P&G and Walmart Offer Americans to Play with QR Codes and Order Trucks with Products to Their Places
In an effort to increase its popularity in big cities, Procter and Gamble has teamed up with Walmart.com to launch a month-long initiative.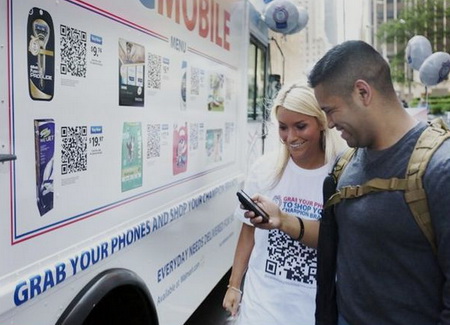 Photo: the '@PGMobile' truck, from 2d-code.co.uk
The company has opened bus stop pop-up stores in Chicago and food truck-style mobile stores in Manhattan, where various P&G products are being be sold.  The trucks have giant QR codes promoting the Wallmart delivery service.
The tactic aims to bring 'large consumables' such as giant bags of Iams dog food or heavy jugs of Tide detergent, and big boxes of Pampers Cruisers directly to the consumer, to free them from carrying it home on foot as well as to compete with amazon.com that is getting more and more popular due to its quick delivery, says Ad Age.
The '@PGMobile' trucks are stationed throughout New York in busy locations, such as Union Square and the Fashion District offering people to use their smartphones to read the QR code and giving away free samples of products. Consumers can request bring the trucks to their apartment or office by tweeting. Of course there are some restrictions as the trucks can't park everywhere. The goal is to let busy urban citizens to know more about the P&G products so that they would then buy it online at Walmart.com.
"We look forward to seeing results of this initiative in Chicago and New York," said Chad Brizendine, Brand Manager, Walmart Grooming and Walmart.com. "While I can't elaborate on our plans going forward, we know reaching the urban consumer is a big opportunity for us and we are committed to finding the right to better serve this consumer."