Pepsi Clasico de Calle Comes to California in Search of the Next Street Soccer Legend
Pepsi is kicking off the summer by asking fans to bring their soccer skills to the Pepsi Clasico de Calle street soccer tournament. California soccer fans can log on to miPepsi.com through July 14 to register for a chance to become one of five players on the 2012 Pepsi Calle All Stars team. The Pepsi Clasico de Calle is being hosted by five cities including: Bakersfield, Fresno, Los Angeles, San Diego and San Jose.
The Pepsi Clasico de Calle is the first tournament where the 'best of the best' in street soccer come out and prove why they have the most swag on any field or street by testing their dribbling abilities, freestyle skills and technique. The tournament's celebrity judges include soccer personality and model Temryss Lane, Los Angeles Galaxy's Omar Gonzalez, and Mexican soccer legend Claudio Suarez. The five winners of the tournament who will make up the Pepsi Calle All Stars will be announced later this summer at the 2012 AT&T MLS All Star Game.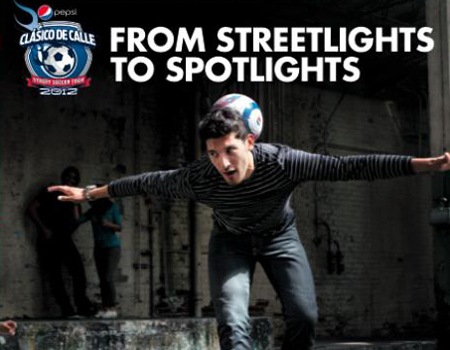 Photo: Pepsi Clasico de Calle poster, a snapshot from the www.pepsi.com website
Families can join the fun at the Pepsi MAX Fan Zone, a sports and entertainment experience that includes interactive games, unique giveaways, local food and, of course, Pepsi MAX for fans to enjoy. In addition, the Pepsi MAX Fan Zone will include guest performances by Latino artists like DJ Erick Rincon, known for his tribalero beats, and music by the fan's favorite local DJ's.
"Pepsi has a rich history of inspiring fans to connect with pop-culture and sports by providing them with unparalleled experiences in relevant, authentic, and new ways," said Javier Farfan, Senior Director of Cultural Branding, PepsiCo. "We created an experience that caters to soccer fans and embodies Pepsi's living for now mindset."
The Pepsi Clasico de Calle debuted in Bakersfield on June 3 and San Diego on June 10 to more than 500 fans and 90 street soccer players who demonstrated that they have what it takes to be part of the Pepsi Calle All Stars. The tournament's next stops are Los Angeles on June 16-17, Fresno on June 30 and San Jose on July 14-15. The events include the participation of soccer organizations like Chivas USA, Cal South (The California State Soccer Association—South), Copa Cabana Beach Soccer, a provider of competitive soccer for youth and adults, local retail partners Mi Pueblo, Northgate, Vallarta and national support from, MLS and ESPN Deportes.