Ford Shares With Consumers Random Acts of Fusion
Ford is launching a new social consumer program for its all-new Ford Fusion dubbed as the Random Acts of Fusion. The company calls this immersive campaign a "unique transmedia marketing initiative" that "promises to be as groundbreaking as the all-new Ford Fusion."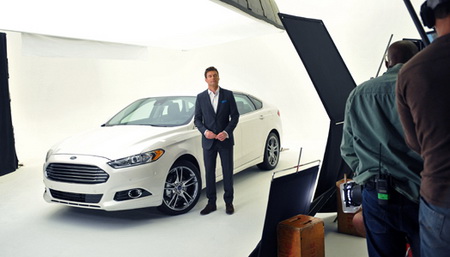 Photo: Ryan Seacrest at the Ford's ad shooting
Ford Fusion is a car aimed to bring changes to the midsize vehicle segment and Ford wants to introduce it in an unforgettable way to show off its technological and design features. This initiative builds on the success of previous Ford social consumer programs such as the Fiesta Movement and Escape Routes and follows Ford's campaign in which the automaker the automaker promised it would 'Go Further' in improving the eco-friendly technology of its cars.
Ford tapped both consumers to celebrities including Emmy Award-winning TV and radio host and producer Ryan Seacrest to feature in the Random Acts of Fusion. Ford will use around 100 of the new Fusions for short-term loans to 1,000 people chosen for their personal stories even before it hits dealer showrooms. Wide social media coverage is also guaranteed, as well as unexpected moves  involving users into the program.
"Life is all about acts–big and small–and through Random Acts of Fusion, this vehicle and program will take real people to unexpected places," says Crystal Worthem, manager, Ford Brand Content & Alliances. "Consumers will have to work together to unlock the story, and as the program evolves, will have a chance to see for themselves how Fusion is able to transform the lives of the people who drive it."
Consumers can get to know more about the Random Acts of Fusion visiting the Ford Fusion Facebook page. The program runs through the end of October.