Anheuser-Busch Creates the Nation of Responsible Drinkers
Anheuser-Busch, the US-based beer giant, is rolling out a new responsible drinking campaign, which is focused on its new site at www.NationofResponsibleDrinkers.com.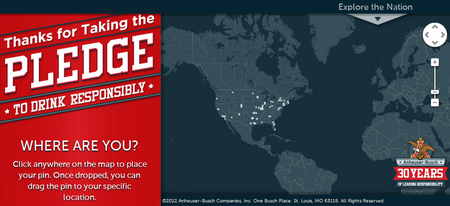 Photo: a snapshot from www.nationofresponsibledrinkers.com
Visitors to the web-site are asked to pledge their commitment to drink responsibly and then share it through Facebook to encourage friends to do the same. The pledge includes the following points: respect of the legal drinking age; enjoying responsibly; and being a designated driver.
This is a continuation of The Know When to Say When campaign that was first launched in 1985 and Anheuser-Busch was the first brewer that promoted responsible drinking on a TV screen. During almost thirty years, Anheuser-Busch and its wholesalers have been investing into the campaign and now the sum is more than $930 million. It's not just a waste of money—the latest government data proved that drunk-driving fatalities fell by 52% since 1982.
"With close to half a billion adults on Facebook, we see an enormous opportunity to expand our reach to newer generations of adult drinkers—most of whom came of age after Know When to Say When and our earlier responsible drinking campaigns," said Kathy Casso, vice president of Corporate Social Responsibility for Anheuser-Busch. "We're looking to the future of alcohol responsibility, and we see the potential in social media—with its ability to bring adults together and peer-to-peer persuasion—to help friends and family make smarter choices."
Anheuser-Busch has also been supporting various programs that help parents talk with their children about drinking; help retailers educate their employees on how to properly check IDs and prevent sales to teens; assist schools in building self-esteem among students; and support law enforcement officials in enforcing the law.
The previous projects within the Know When to Say When encompassed different media: TV, newspapers, magazine, radio and billboards and featured a number of legendary sports and music stars.