Gain and Wanda Sykes Help Consumers to Find Their Favorite Scent
P&G's Gain detergent has tapped comedian and actress Wanda Sykes as an official Gain Scent Matchmaker, who is taking part in its YouTube campaign aimed to promote different scents of the detergent.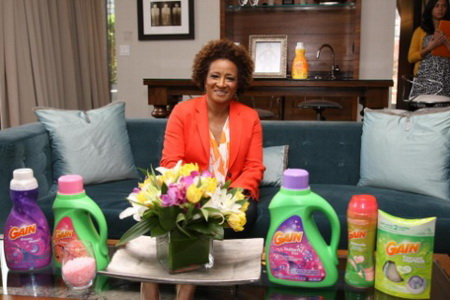 Photo: Wanda Sykes and Gain detergent
The campaign is based on a 2012 study by Wakefield Research conducted on behalf of Gain, which showed that 72% of Americans feel it is important for their personal scent to match their personality.
In the interactive and fun YouTube video, Sykes helps viewers to find their own scent match based on their personality. She uses questions for people to choose their favorite shoes, music etc by clicking on a preferable image that appears on the screen. As a result of the test, people will be advised a Gain they would enjoy the most—Apple Mango Tango, Icy Fresh Fizz or Butterfly Kiss. After users have found their favorite scent, they can register to get a coupon that allows a $1 off the Gain detergent.
"We're excited to be working with Wanda as Gain introduces, a one-of-a-kind interactive experience to help people express themselves and find their perfect scent match," said Hamilton Brown, P&G North American Brand Manager for Gain. "At Gain we believe the fun doesn't have to stop when the cleaning starts, especially when you're surrounded by your perfect Gain scent match." 
To target all communities, the video is created in two versions—English and Spanish. The last version features 'Dr. Aroma' as a scents 'guide.' The campaign will also include a series of TV ads and digital components. The interactive video is only available on YouTube.