Coca-Cola Introducing the 8-Pack of Athletes in a New Olympics Marketing Initiative
Along with its global Move to the Beat campaign, Coca-Cola is giving American fans the chance to look closer at some of Team USA "most intriguing personalities."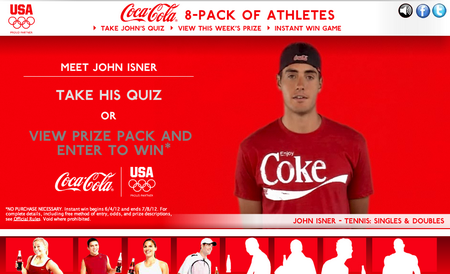 Photo: a snapshot from www.mycokerewards.com
Apart from the Move to the Beat, this is the largest Olympic-themed marketing effort for Coca-Cola since it started sponsoring the Games in 1928. The integrative campaign includes advertising, limited-edition packaging, experiential marketing, online and mobile engagement and public relations.
In eight new commercials created by Ogilvy & Mather, Wieden + Kennedy and Leo Burnett the inspirational stories of the Olympic and Paralympic Athletes from various sports are highlighted. Limited edition cans and fridge packs feature action-shot silhouettes of Coca-Cola 8-Pack of Athletes.
A digital hub at MyCokeRewards.com/theOlympics will also share content dedicated to the Coca-Cola 8-Pack of Athletes. Users will be able to participate in interactive athlete quizzes and win customized prize packs. A special  My Coke Rewards promotion called 'On the Go with D.O.,' will offer mums an opportunity to bring 2008 Olympic bronze medalist David Oliver  to their children's school for a 'field day' of athletic activities.
Another activity within the campaign is a fan engagement. Fans were able to upload a personal photo and brief message supporting Team USA athletes. Selected messages and photos notes will appear on the six-story Coca-Cola Times Square billboard on July 18.
Finally, the Coca-Cola Swelter Stopper, a mobile marketing unit will be present at more than 80 events throughout the summer. Its interior is inspired by the theme of the Olympics and features frosty air and an ice bar to provide refreshment to visitors who will also be able to make a photo of themselves at a featured photo station.