Why Good Branding is Priceless
The article is written by David Rogers, owner of packaging and brand design consultancy We Are Pure
The phrase 'value for money' has very much become a buzzword in recent years as economies across the world continue on their rollercoaster journeys.  However, is it really a saying that is often heard in agency land?
I think it is fair to say that over the past few years, businesses across the board have had to review their position in the market, their offering and their pricing structures. However, for some, I believe that the internal review process has simply passed them by.
Some design agencies continue to charge the earth and give very little in return. I cannot help but find this a little frustrating on a few different levels:
Other agencies end up getting caught up in this 'over priced' image.
They miss out on working with some of the most rewarding customers.
It is a short-sighted approach that fails to see potential future business rewards.
I used to work in a fairly sizeable agency, but it was not quite me. There were too many people trying to have their say on designs and costs were too high, scaring away the very people who I wanted to work for – the smaller, niche brands.
We all know that trading conditions are tough at the moment and there are some truly unique companies out there with fantastic products that have found themselves swimming against the tide.
I am a big believer in niche, independent businesses and want to show the difference that quality branding can make to them, which is partly the reason that I started my own consultancy. It can make the difference between being listed by one of the big four supermarkets and selling to a handful of buyers each day from their own website.
Time and again, I hear of agencies that charge small companies the earth for very little in return. Retailers are squeezing brand owners for lower price points and that inevitably filters down. I believe that agencies should support these smaller independents with more realistic pricing and then grow with that brand.
Okay, this approach may not have obvious benefits at first, but do your job properly and get that brand onto the big stage and you have yourself a client for life, sharing in the benefits as they grow.
I believe so strongly in this, that I have decided to put my money where my mouth is and show that good design can be priceless.
I have taken the bold step of setting up a scheme called 'Purely Because', which will see us selecting one small or start-up business to work alongside each year. They will receive a complete brand makeover free of charge, which will include logos, packaging, POS, advertising and website assistance.
This is about taking a stand and going to the extreme to demonstrate how I believe big agencies should be more supportive to those brands trying to get off the ground and make an impact.
The first brand to benefit from the scheme is The BitterSweet Chocolate Company.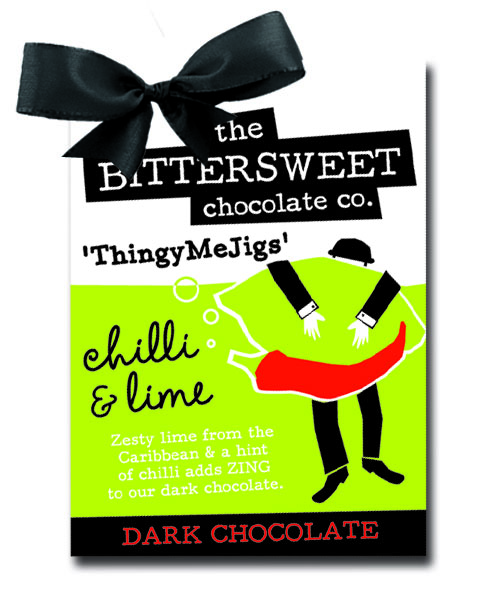 Photo: BitterSweet's packaging design
We have already created a new brand identity for the range to achieve that all important shelf standout. The new packaging features a typically English gentleman hugging brightly coloured ingredients, reflecting the fact that BitterSweet's products are all handmade and bursting with flavour. Work is also underway on a new website for the company.
I am pleased to say that the owner, Nigel Holling is thrilled with the new concept and is now looking forward to the challenge of building his sales nationally and attending his first trade show, confident in the belief that he has a product that retailers and their customers will appreciate.
I have no idea if this scheme will have an impact on others in the industry. All I know is that I am proud that my team and I are able to help some fantastic little companies and that we are taking a bit of a stand and letting design, rather than money, do the talking.
About the Author
David Rogers is the owner and creative partner of Nottingham-based packaging and brand design consultancy We Are Pure, which works with some major national brands such as Unilever, Trevor Sorbie and Blockbuster and many international/local brands, specifically, in Russia.