Diesel Launches a Facebook Hub to Support the Calvi on the Rocks Music Festival
Diesel is covering the Calvi on the Rocks music festival, which has been taking place in Corsica for the 10th consecutive year. The casual apparel brand, which is one of the sponsors of this music event, has launched a dedicated tab on its Facebook page, where users are invited to explore highlights from the 6-day festival, which closes today, July 11.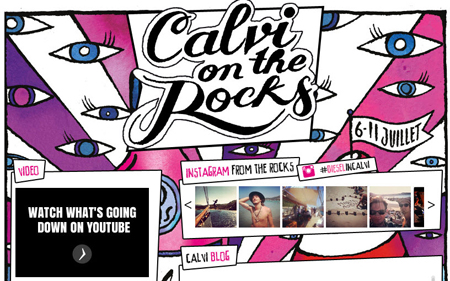 Photo: A snapshot from the Diesel's Calvi on the Rocks tab
Along with getting the latest and hottest coverage in text, audio and video formats, visitors to Diesel page are also able to explore the apparel and accessories which perfectly suits the beach event, both Calvi on the Rocks and any of those which are coming this summer—beachwear, eyewear and one of the latest offerings from the brand, Noise Division black headphones. To provide its fans with the news directly from the heart of the festival featuring top name DJs, the brand opened the Diesel beach house—the brand also encourages to "catch all the action and exclusive playlists live from the festival using the tag #dieselincalvi," the tweets are displayed on the page as well.
The audience can enjoy the experience at several beaches, including Diesel En Casa (In Casa Beach), "party-time in a fairytale setting, international DJs and live acts electro… This is the headquarters of the festival. Emotional music only for the brave," and Range of Octopussy (55DSL), "located in the middle of the Bay of Calvi, the Octopussy offers an outdoor dance floor programming to make you dance your feet in the water. At least, surprises 55 per day." Schweppes, another sponsor of the festival, runs Villa Schweppes as part of the festival—the list of brands, which are supporting the festival, also includes MAC, Heineken, Monster and Havana Club to name but a few.