Facebook May Offer its Users a Job Board and Let Them Pay Bills
Facebook is expected to launch a searchable job board later this summer, according to people familiar with the matter. The social giant would aggregate the job postings of third-party providers. If so, Facebook users would be able to search for jobs without leaving their accounts.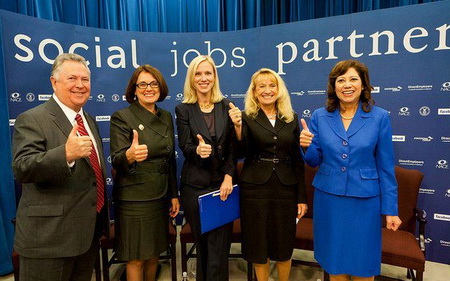 Photo: Facebook Social Job Partners, from Facebook page
According to Dow Jones report earlier this week, third parties are at least three companies that already use Facebook as a professional network hub, including BranchOut, Work4 Lab and Jobvite.
Facebook declined to comment. The planned initiative might threaten LinkedIn but "It doesn't feel like a big effort that they've worked on for a long time," said one source quoted in the report. "It feels lightweight." 
There's no information on how the job postings would function and if they'd appear in Facebook's News Feed or elsewhere on the site. In October, Facebook partnered with the U.S. Department of Labor to launch a 'Social Jobs' portal and make job search for Americans easier. The new initiative seems to be an extension of this partnership.
Additionally, Facebook is "quietly supporting new services for banks that want to engage socially with their customers," says CNN Money. And namely, with Australia's Commonwealth Bank. The beta  version built in March, is expected to launch later this year to customers. Users who are bank customers will be able to make secure payments to third parties without leaving Facebook. It would be very convenient to use the social media for paying utility bills and transfer money in such a way. However, Facebook didn't comment on the matter as well yet.